I decided to write the review and find the best jump starter for diesel because I find this type of unit incredibly helpful. But first, let me tell in more detail what a diesel jump starter is.
This device provides you with the possibility to start the engine without having to use another vehicle to give you some boost. To put it simply, it is a charging device that jump starts the vehicle by giving it current. Nowadays, many diesel jump starters are equipped with USB ports, which means they can be used for charging portable devices such as phones, tablets, etc.
There are diesel and gas jump starters on the market. What is the difference? The diesel engines require significantly higher cranking current than their gas analogs of the same size. Thus, when trying to find the right jump starter for a diesel or gas engine, you have to consider the size of the device. The models I have selected, which are described below, have enough power to run almost any diesel car or truck.
Our pick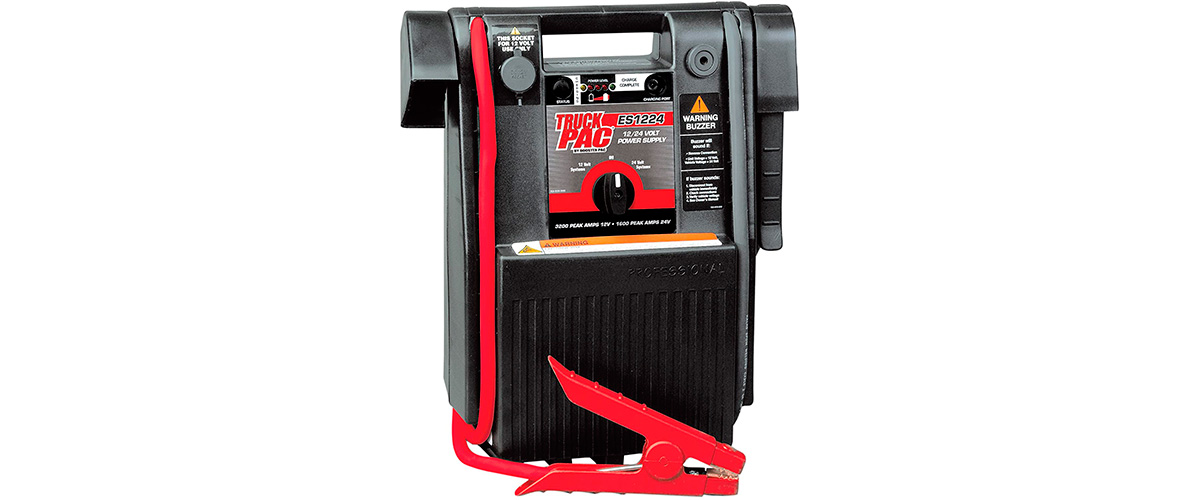 Truck PAC ES1224
Best Jump Starter For Diesel
Like all Truck PAC units, the ES1224 features rugged construction and robust components to stand up to everyday use in even the most demanding jump starting environments.
Jump Starters For Diesel Comparison Table
Jump starter for diesel
Peak Amps 12V/24V
Cranking Amps 12V/24V
Truck PAC ES1224

best overall

3000 / 1500
750 / 370
Review
NOCO GB500

most powerful

20000 / 10000
not supported / not supported
Review
JNC660

best budget

1700 / not supported
425 / not supported
Review
Best Jump Starter For Diesel Reviews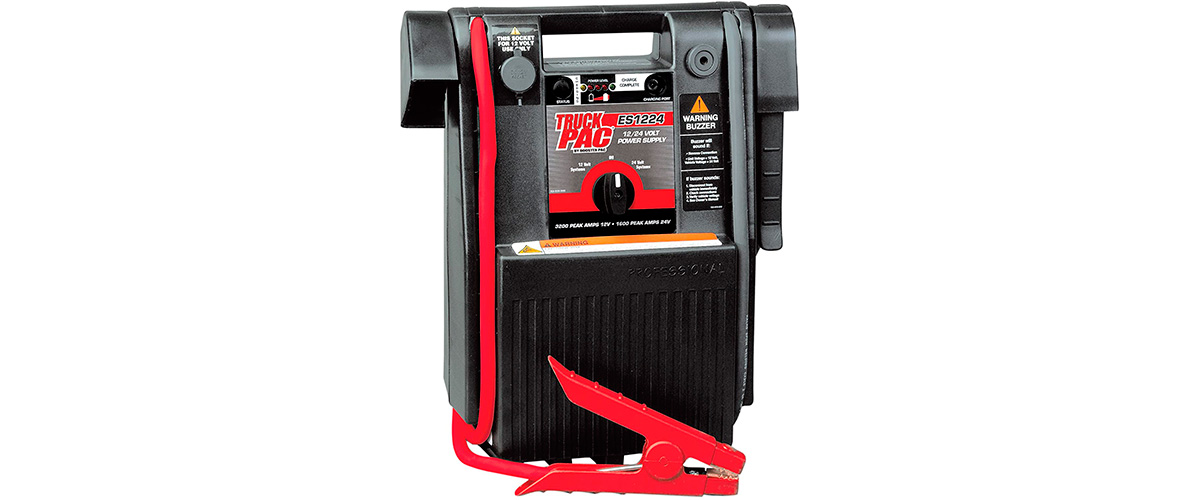 This unit is the best jump starter for diesel. It is not too big streamlined model that promises 300 peak amps through a 12/24V operation and has incredibly strong #2 gauge cables. The ES1224 boasts twin high-performance ES series batteries for automatic recharging. I would like to focus more on the features of the device. Flexible, #2 AWG welding cable leads and Hit Jaw industrial grade clamps provide efficient power transfer from the jump starter to the disabled vehicle's starting system.
The main advantage that I appreciate about this model is its reliability. The point is, the jump starter can be comfortably carried around between different job sites due to its quite small size. The unit has certain features that increase its appeal significantly. I am talking about the Advanced Warning System for unsafe conditions and the pretty long, 60" cables that increase the portability and versatility of the device.
If you have no electricity at home or are camping, remember that there is a 12V socket in the unit, and in combination with an automotive spotlight you will have an emergency light second to none. Plus, you can use the ES1224 for emergency mobile phone charging if all your batteries go dead.
Now, let's switch to the technical aspects of the best jump starter for diesel engine. This easy-to-use device supplies jump starting power to 12 Volt and 24 Volt vehicles. By turning the knob, you can switch from 12V to 24V, all without sacrificing power. The unit delivers 3000 Peak Amps and 750 Cranking Amps to start a great variety of vehicles, including cars, pickups, SUVs, light, medium-duty trucks, buses, and RVs, and even some agricultural equipment. The jump starter comes with two ES Series batteries, which were specially developed for vehicle starting applications. Their main benefits are a long service life and very high output power.
Pros
Bright LED lights show you the condition of charge, and unlike needle, gauges use very little of the battery
Comes with Industrial Grade Hot Jaw clamps
It takes up very little space in a trunk and can be locked up with a bicycle cable lock
Cons
The storage hangers on the sides are practically worthless as they will break off almost immediately
NOCO GB500 – most powerful
The next device in my review is the best jump starter for diesel truck in terms of power. The standalone starter-charger NOCO genius GB500 Boost Max with USB differs in power and is made taking into account innovative technologies and developments. The model provides safe starting of a discharged battery in a matter of seconds thanks to its compact and incredibly powerful, 20000-amp (12V), 10000-amp (24V) portable lithium battery jump starter pack NOCO GB500. It can be used for charging semi-trucks, construction equipment, and farm implements. The device is suitable for starting diesel and gas engines 12V and 24V.
The unit has a more compact size than its counterparts from other manufacturers. In addition, the device is equipped with protection systems against sparking and incorrect polarity. An ultra-compact and lightweight design make the model super portable – it weighs just 19 pounds. This device is safe for engines of all sizes. The considered jump starter can quickly and safely charge many types of devices: smartphone, tablet, laptop, as well as a compressor, inverter, flashlight. The well-designed user interface of the unit provides a lot of useful information and has significantly improved readability in nighttime conditions.
Let's focus more on the technical aspects of the portable jump starter for diesel engine. The device comes with Interchangeable 60-inch (1.5m) AC Cords – Australia (Type I), Europe (Type C), North America (Type A), United Kingdom (Type G). Additionally, there is a high-power LED flashlight, which has seven modes of operation. The device also includes an alarm and SOS. And the compact sizes and small weight allow to transport it easily, the unit will not take a lot of space in a bag or in the car.
Pros
Comes with a high-discharge lithium technology that provides fully safe operation in any climate
You can quickly connect and disconnect to the GB500 with the Boost Max 24-Inch 2/0 AWG cam-lock cable connectors
The presence of two USB connectors provides more efficiency, so the user can recharge two discharged appliances at once
Cons
Not useful for equipment without accessible battery posts
JNC660 – best budget
The next model in my review is this super powerful budget unit that reaches 1700 peak Amps and 425 Cranking Amps. The device is able to jump start a car or even heavy-duty machines and also has a 12V outlet. Although the model is quite portable, it is way much powerful and stronger than many other devices in this class.
I'm going to tell you about its technical features in detail. But first, I'd like to draw your attention to how the unit looks. It is a blue-colored device with jumper clamps. The unit has a built-in voltmeter that provides you with the possibility to check the status of the battery inside the jump box for diesel by just pressing the red button. There are three different shaded areas that indicate the level of charge.
The next thing you have to know about this device is the presence of the 12V power outlet, which can power a variety of accessories. Moreover, the outlet includes automatic circuit protection to prevent overloads. The on-board charger means there are no AC adapters to lose. Basically, all you need is a regular extension cord.
One more feature you will find in this portable battery jump box for diesel is the status gauge, which can be used to check the engine's charging system. Let me tell you how it works. While hooked up to the vehicle and the engine running, the gauge shows how the vehicle's charging system is doing.
Pros
Overcharge protection
Does not require you to use a separate transformer
Comes in at a nice compact form that allows for easy carrying
You can charge several accessories simultaneously using the 12 Volt power supply
Truck PAC ES6000
You certainly should consider this Clore Automotive Truck PAC ES6000 3000 Peak Amp 12V Jump Starter when looking for a decent device in this category. The mentioned model is a capable and powerful product, with the promise of 3000 peak amperes/800 cranking amperes. But that's not all. The unit also has some additional features which significantly increase its appeal. I'm talking about the super high quality of the Hot Jaw clamps and extra-long cables. There are not many jump starters with such extras. Moreover, Truck PAC ES6000 has an impact-resistant case, which is also a significant benefit of the unit.
This excellent unit can start almost anything: cars, trucks, tractors, and even boats. Such a capability is due to the power of the twin high-performance ES Series batteries. It is important to mention that the jump starter for diesel car is helpful when trying to start vehicles with almost completely drained batteries. It happened to me only once though. The device is a perfect addition to the common auto shop or even truck fleets.
Pros
Features ES Series batteries, specifically developed for vehicle starting applications
Can work on multiple cars in a row and when the outside temperature is extremely low
Long 54in. leads enable ideal unit positioning while jump starting
Buyers Guide
Difference between cranking and peak Amps in portable jump starter for diesel engine
The peak amps are intended to show the jump starter's performance. Speaking in more detail, the peak amps is the highest current that the device pushes out during an initial burst when starting the engine. Basically, it is an electrical current that makes the engine rotate. Nevertheless, this current fades quite fast.
When it comes to more stable current, it is called cranking current, and it provides a user with a more prolonged engine cranking. In fact, the cranking current is a more precise measure of the real abilities of the jump starter. Usually, the peak current is enough to jump start the engine before the output power goes down.
How to jumpstart a diesel?
In this section of my review, I decided to give you detailed instructions on how to jumpstart a car. First of all, you have to read the manual provided by the manufacturer of your jump-starting unit. Pay attention to whether your vehicle has a positive ground. If yes, the instructions on how to use it will be different. The next step is to make sure that your starter is charged at full or at least a half. In addition, you need to check whether your vehicle's battery voltage is suitable for the jump starter's output voltage.
Time to act. At this point, your task is to switch your vehicle off and take the keys out of the ignition. The jump starter should be off as well. Find out which terminal of the battery is positive (can be marked with "P," "POS," or "+") and which is negative (can be marked with "N," "NEG," or "-"). You also have to find positive and negative clamps on the starter itself. Here everything is simple: red means positive, black means negative.
After the mentioned steps are completed, connect the jumper cables to the terminals. It is crucial to check if the clamps are solidly fixed. Now you can turn on the jump starter. Some recommend starting the vehicle right away. However, it is much wiser to wait at least half a minute before doing it. Another suggestion is to not crank the engine for too long – no more than 5 seconds. After the vehicle is charged, allow it to idle for 3-5 minutes before driving.
How to jump start a diesel truck with two batteries?
Do you need to jump start your diesel truck with two batteries? It'll not be complicated if you use my step-by-step instruction for it.
Let's start. First, you have to put both vehicles in either "park" (automatic transmission) or "neutral" (manual transmission). Don't forget to switch off the lights and all other accessories in the vehicle. Otherwise, you can harm some mechanisms. Step number two: connect one clamp of the red jumper wires to the positive terminal of the dead battery. Then, hook up the second clamp to the good battery's positive terminal. You also have to connect one of the black cable's clamps to the good battery's negative terminal.
After the listed steps are taken, you need to find a piece of unpainted metal on the vehicle and connect the last black cable's clamp to it. For example, you can use the alternator bracket for this purpose. Now, you have to start the engine of the truck with the charged battery and leave it running for several minutes. By doing this, you are putting power back into a dead battery. When the engine of the vehicle turns over, you need to gently remove the black cables from both vehicles one by one. Remember that they should not touch metal, each other, or the red cable. In the same way, disconnect the red cables.
When charging is completed, don't forget to let your revived truck run for a bit, which will help the alternator to put power back into both batteries. Do not shut off the engine for at least 15-20 minutes.