Finding the best 3000 watt inverter generator is a very important process for everyone who wants to simplify their life, for example, while traveling.
Moreover, generators are important to powering a whole bunch of electronics, which can include a variety of devices, from smartphone chargers to refrigerators and TVs.
In this article, we will look at both conventional 3000 watt generators and inverter generators. We will also understand how they work, highlight the obvious favorites and see what they are good at and where the developers should improve the flaws.
3000 Watt Generator Reviews
Best 3000 Watt Inverter Generator
The best 3000 watt inverter generator is the Champion Power Equipment 100263. It packs a powerful punch of 3,400 starting watts and is easy to move around.
Among the many generators on the market, one cannot fail to mention the highly reliable 3000 watt RV generator Champion Power Equipment 100263. In many ways, this particular product can become your best 3000 watt generator. In terms of functionality, it distinguished itself by the ability to power either gasoline or propane. In addition, the unit holds 0.6-quarts of oil and has a low oil shut-off sensor.
What I liked most about using was the Quick Touch Panel. It allows you to access all your controls in one spot without additional gestures. In addition, the Ultra-Quiet Operation of 59 dBA is perfect for this type of generator.
In terms of performance, the device boasts 3,400 starting watts and 3,100 running watts with up to 7.5 hours of run time on gasoline. Also, the connectivity options are very well disclosed so that you will not have problems connecting different devices to the generator. It has a 120V 30A RV, plus two 120V 20A household outlets with clean electricity and a 12V DC outlet with a dual USB adapter.
Key specs
Surge watts: 3400 (gasoline)/3060(propane)
Running watts: 3100 (gasoline)/2790(propane)
Generator type: inverter
Fuel type: gasoline/propane
Fuel tank size (gallons): 1.6
Engine size: 192cc
Volume level, dB: 59
The first thing that catches your eye when you use the Generac GP3000i is its great design. GP3000i boasts a cool body and great orange finish. Based on this, despite its weight, it's one of the most convenient 3000 watt portable generators. The convenient handle makes it more or less compact.
The engine performance is very good, for example, 3000 watt surges when using either gasoline or propane is a good indicator. On the other hand, 2300 watt running is more or less good, but it could be better, depending on your needs.
I would also like to highlight the fact that it's an extremely quiet 3000 watt generator, despite the fact that this is a 3000-watt device that should produce a lot of noise. Nevertheless, even under heavy loads, the generator copes well with noise, and thus, its location on the campsite or directly in the car becomes very convenient and does not interfere with your time.
By the way, it easily powers small refrigerators, TVs, and audio systems. But your devices, which are very sensitive, will not suffer either, because the device perfectly protects them.
Key specs
Surge watts: 3000
Running watts: 2300
Generator type: inverter
Fuel type: gasoline
Fuel tank size (gallons): 1
Engine size: 149cc
Volume level, dB: N/A
The WEN 56380i is the ideal inverter generator for your camping or even for home usage, not only because it has an elegant design but also because it is very portable (23.2 x 18 x 20.1 inches).
The 56380i has an engine with a 212 CC 4-stroke OHV engine displacement, which produces a peak power of 3800 W. For example, the vast majority of standard RVs require at least 2000 W to operate. Therefore, you can consider the WEN 56380i right for your mobile home. The generator is supplied with a 120 V AC 3 pin outlet that meets NEMA TT-30R RV requirements. The device also includes a 12 V DC outlet and a 5 V USB port. You may also use the regular outlet to securely charge your phone or laptop using electricity from WEN 56380i.
Moreover, the generator is EPA III and CARB compliant, making it very quiet and smooth to operate. The generator can quickly satisfy all your electricity requirements with up to 8.5 hours of driving at half load. The WEN 56380i`s tank contains 2.23 gallons of gasolineoline. The capacity of the generator to run out of fuel before switching off is an even more desirable feature.
Key specs
Surge watts: 3800
Running watts: 3400
Generator type: inverter
Fuel type: gasoline
Fuel tank size (gallons): 2.2
Engine size: 212cc
Volume level, dB: 57
Best 3000 Watt Conventional Generator Reviews
As already mentioned, conventional generators are much more impressive in size than inverter generators, so do not be surprised that it is very large. However, the Champion Power Equipment 100522 is well suited for transport with a very comfortable handle and wheels, so you don't have to drag it in your hands.
The device, with its impressive size, includes a low oil shut-off sensor and holds 0.6-quarts of oil. In the area of ​​power, 100,522 boasts 4,375 starting watts and 3,500 running watts. With their help, you can use it continuously for more than 12 hours, provided that the tank is full.
Connectivity is also not far behind because the generator has 120V 30A locking, 120V 30A RV, and two 120V 20A outlets. Moreover, the manufacturer thought about the users and provided the Volt Guard built-in surge protector, which very reliably prevents overloads and keeps your appliances and equipment safe.
Key specs
Surge watts: 4375
Running watts: 3500
Generator type: conventional
Fuel type: gasoline
Fuel tank size (gallons): 4.7
Engine size: 208cc
Volume level, dB: 68
Honda EB3000c
The EB3000c is a perfect generator that should be considered if you are choosing a conventional generator. The first thing I want to mention is that it produces a nominal power of 2600 watts, but the maximum is 3000 watts. This generator has a capacity of 2.7 gallons but only runs on gasoline.
The EB3000c can run at full capacity for six hours without any problems. Nevertheless, even at 50% system load, the device will work for more than 9 hours. It is thanks to this number of working hours that you can get the most out of your device without fear of loss of power.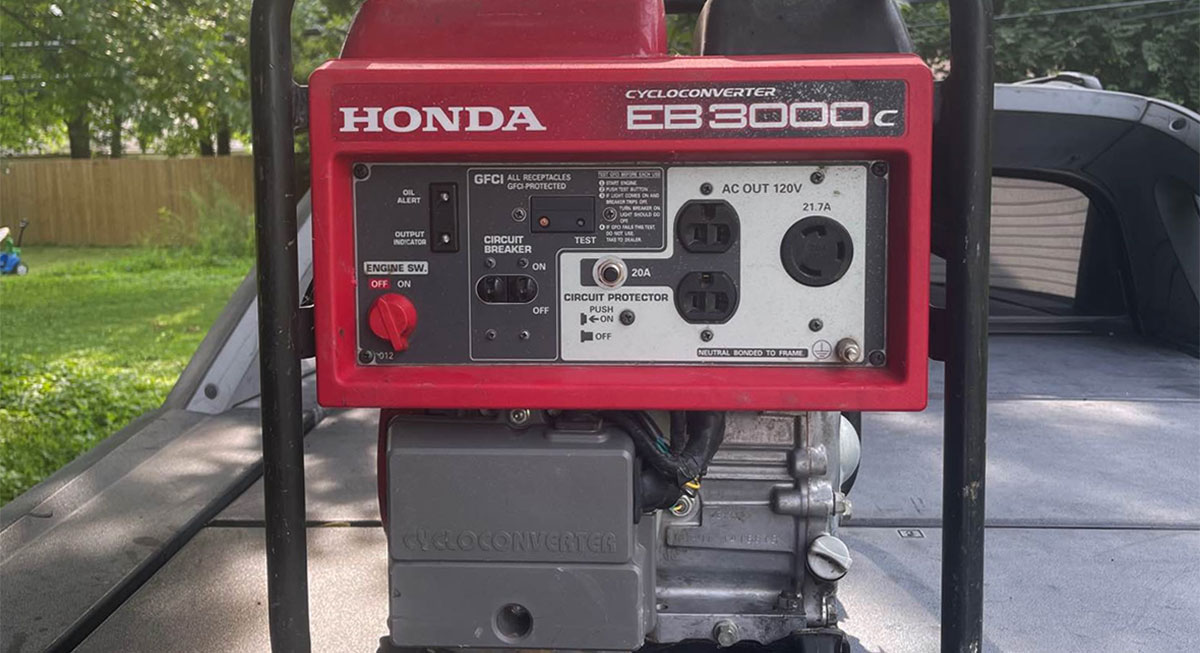 I would also like to add that despite its impressive size, the EB3000 is pretty quiet compared to other hardware. It has a noise level of 68 dB at rated load.
The EB3000 has a standard fuel level sensor and a DC socket for its useful functions, ideal for charging 12V car batteries.
Key specs
Surge watts: 3000
Running watts: 2600
Generator type: conventional
Fuel type: gasoline
Fuel tank size (gallons): 2.6
Engine size: 196cc
Volume level, dB: 68
Westinghouse WGen3600v
I just want to clarify that the Westinghouse WGen3600v is an out-of-the-box device that has huge power potential. It is a number higher than the rest of the products presented due to the fact that its starting power is already 4650 watts, together with the usual constant of 3600 watts.
In addition, the charge of this device will be enough for more than 13.5 hours of work if you fill a full tank, and its capacity, by the way, is 4 gallons, which is quite a lot. Despite such a steep potential along with the price, the offer seems more than great. The only drawback is, perhaps, the low level of portability. The device is really terribly heavy, so you need to calculate in advance where you will put it and how you will use it.
Connectivity in this device also does not suffer at all, so let's look at this. The developer offers us 5 pieces of 20R 120V Household Duplex Receptacle, One RV-Ready TT-30R 30 Amp Receptacle, and One L5-30R 30 Amp Receptacle. What's more, all outlets have rubber covers for added safety and moisture protection.
Key specs
Surge watts: 4650
Running watts: 3600
Generator type: conventional
Fuel type: gasoline
Fuel tank size (gallons): 4
Engine size: 212cc
Volume level, dB: 99
Difference between inverter and conventional generators
Inverter generators
The principle of operation of an inverter generator is very simple. Obviously, your generator motor produces and supplies you with high voltage multiphase AC power. Next, after generating AC, your inverter generator converts the power to DC. Later, the built-in inverter in your generator converts DC to AC again.
As such, it is important to understand that your inverter is built with a microprocessor that is designed to perform this conversion. Likewise, inverters are specially designed to provide smooth, stable, clean, and constant power. In addition, certain models of inverter generators can produce power that matches the power that utilities provide to your home.
Conventional generators
A conventional portable generator is a liquid-fueled engine with an alternator that has electrical power. When choosing, it is also important to consider that engine speed and associated electrical power are key characteristics of a conventional portable generator.
The main disadvantage of most portable generators is that the unit cannot maintain a stable 3600 rpm. This means that voltage and hertz also fluctuate and rarely stabilize. Harmonic distortion is a very important aspect of a generator, which is why this type of device does not generate pure electricity.
There is also a relationship between the size of the fuel tank and the quality and duration of the operation. Now imagine what size the generator will be for, say, 9000 watts. Compared to inverter generators, these will be much less portable.
Buyers Guide
What are the key differences between a 3000 watt inverter generator and a conventional generator
Each user needs to independently decide which type of generator is best for him and I will help you with that. In fact, I described some of the differences above, so I propose to talk about the rest now.
Power consumption and fuel efficiency
Remember that conventional portable generators can produce more power than inverter generators. First of all, this is due to the size of the fuel tank, which is always 1-2 gallons larger.
In turn, inverter generators using final alternating current are more energy efficient. In addition, the inverter usually adjusts itself to the load and calculates the required amount of energy.
Thus, the higher fuel efficiency of inverter generators allows the use of smaller fuel tanks which will not be a disadvantage.
Unlike inverter generators, conventional generators are not as economical. This is precisely the reason for their large size and heavyweight. Based on this, the so-called difference in power appears. For example, the average power of inverter generators is between 1200 and 4000 watts, while conventional portable generators can reach over 10,000 watts.
Portability issues
As you have already noticed, every review has a mention of portability, as it often becomes a decisive factor when choosing a generator.
Inverter generators are generally more portable than conventional generators. Conventional fuel-fired generators, while producing more power, have a large fuel tank and a larger engine. Based on this, 2 problems arise: the availability of space for placement and noise.
Undoubtedly, large generators often have wheels and carry handles, but this is often not enough since many portable generators still weigh over 100 pounds.
In turn, inverter generators are smaller due to the small fuel tank. Moreover, they do not need a large motor because they provide less power output. Because of this, the weight indicator drops by 50 percent compared to conventional generators.
Ecological aspect
We live in the 21st century, where the problem of environmental pollution is very acute. Thus, the choice of a generator between the 2 types also has a moral aspect.
In some countries, there are different restrictions on the emission of greenhouse gases into the atmosphere, so study this aspect before buying. In most cases, a portable generator must meet at least the EPA requirements. There are also CARB requirements that work in a number of other countries.
It is clear that inverter generators already emit less greenhouse gas emissions than conventional electric generators. It is easier to find an inverter generator that meets environmental requirements than it is to find a conventional portable generator that does.
Noise problems
Noise issues are really important depending on where you intend to use the generator. I just want to remind you that conventional portable generators are notorious for their noise. And unfortunately, this cannot be fixed in any way, so when choosing, remember that you need to put it away from people, parties, etc.
Speaking of inverter generators, the technology introduced allows them to run quieter. Inverter generators operate at a stable speed of 3600 RPM, which eliminates most of the noise.
By the way, in the instructions and in the case of the device, the noise level is often indicated. Most manufacturers indicate the decibel output of the alternator at half or fourth load, so keep that in mind.
Many inverter generators produce noise from 50 to 60 decibels, however, check the exact values ​​when purchasing. Compared to conventional generators, this is very good, as they produce over 65 decibels.
What can you run on a 3000-watt generator?
When choosing a generator, you must first understand what consumption sources will be connected to the station.
And after determining the consumers are connected to the generator, the power of all intended devices must be integrated simultaneously. Thus, the power of each gadget is better looked at in the technical passenger passport or at the device power ticket.
For example, here is a standard, average set of electricity consumers that a 3000 W generator can handle:
Refrigerator – 100-750 W;
Computer – 400-750 W;
Electric kettle – 1000-2000 W;
Lighting – 20-250 W;
Water pump – 500-900 W;
Air conditioner – 1000-3000 W.
Generator maintenance tips
Here are some recommendations for generator maintenance, following which you can be sure that the generator will start when you need it.
Change of engine oil
Like any other engine, the generator engine requires timely maintenance, one of the main points of a timely oil change. I recommend changing the running cycle a little and replacing it after 10 and 20 hours of generator operation, and then once a year or every 100 hours. If the generator is operated under severe conditions, the oil change interval should be reduced to 50-70 hours.
Sparks and filters
Without a good spark and sufficient airflow, the generator will intermittently or stop starting altogether. Replace plug and air filter every 200 hours of use, or once at the beginning of each season. A new spark plug paired with a clean air filter will maintain the correct air/fuel mixture, helping the generator engine run more efficiently, which will significantly extend the life of your generator.
Store the generator with an empty tank
If you do not plan to use your generator for more than a month, be sure to drain the fuel from the tank, then start the engine and wait until it stops. If there is still a little fuel left in the tank, you can unscrew the sump on the faucet and drain the remains.
FAQ
Will a 3000 Watt generator run my house?
The 3000 Watt generator is a convenient size for buying — big enough to run a mid-range air conditioner, but not so powerful that it needs an expensive heavy-duty
extension cord
to power other devices in the house. It's also useful because of its portability — it will fit in the trunk of a large sedan.
Will a 3000 Watt generator run my refrigerator?
You can run a refrigerator off a 3000 Watt generator.
Will a 3000 Watt generator start a 12 HP engine?
You might be able to start a twelve-horsepower engine on your 3000 Watt generator.
What about running small electronics on a 3000 Watt generator?
A 3000 Watt generator is best used for heavy-duty power appliances like air conditioners, refrigerators, and furnaces. But you can also run smaller electronics on it.
What about running an electric heater on a 3000 Watt generator?
You should be able to use a 3000 Watt generator for an electric heater.
How do I calculate generator wattage?
Generator wattage is a rather simple calculation. It depends on the voltage of your generator as well as what you are powering with it. Generally, though, the calculation goes as so:
(Voltage x Amps) = Wattage
Is it safe to use a 3000 Watt generator indoors?
No, you should not run a 3000 Watt generator inside.
How big of a generator do I need to run 2 refrigerators?
You will need at least a 5000 Watt
generator
to run 2 refrigerators at once.
How many watts does a microwave use?
Can you plug a generator into a house outlet?
No, never plug a generator into a house outlet. Doing so could lead to severe issues with the wiring in your home.