When running power tools such as an electric drill or circular saw, a good power inverter can be very helpful. This device changes the DC (direct current) from your car battery into AC (alternating current), meaning you can run your power tools without ever having to worry about recharging the battery!
This review will cover the best power inverters for running power tools available on today's market. I'll also explain what features and specs to consider to choose the model that will meet all your needs. Interested? Then let's dive in!
Our pick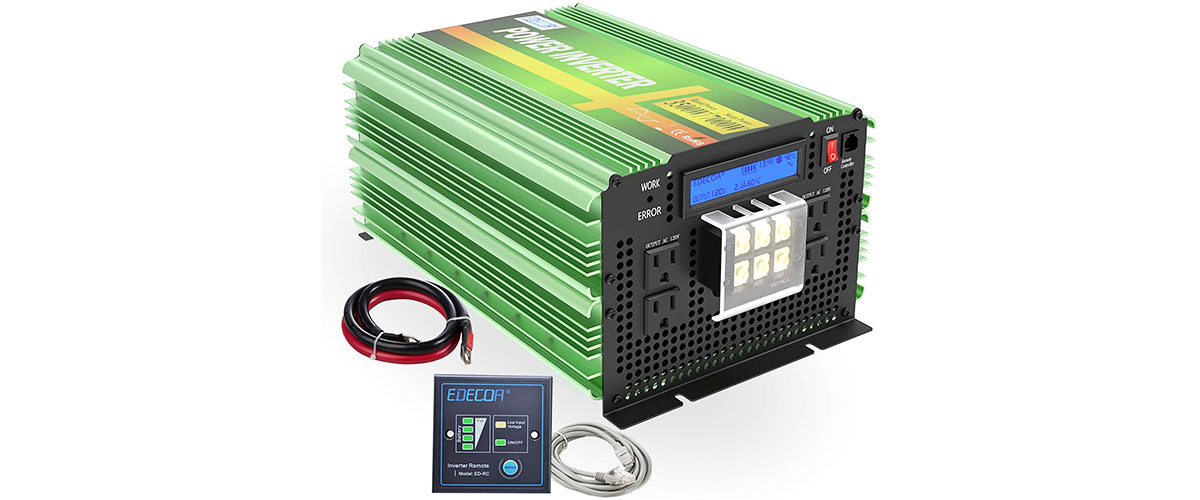 EDECOA
Best Inverter for Running Power Tools
EDECOA inverter is designed to handle heavy-duty power tools with ease.
What size inverter do I need for power tools?
It's very important to choose the right size of the inverter, this way you'll make sure it has enough power for your applications.
The most common sizes for these units are 1000, 3000, and 5000 watts. Which one to choose will depend on the watts or amps of tools you want to run. Besides, you should consider how much power your tools require to start up (surge power) and continuous load.
It would be wise if you get an inverter that's double the size of the power tool's startup/surge watts. It may seem excessive, but keep in mind that power tools, like all electronics, are susceptible to power spikes. So, it is essential to have an inverter that can manage a lot of electricity if this happens.
Let's take a look at some common tools' power ratings and recommended inverter wattage for power tools:
Tools
Tool's Watts
Minimum inverter's size
Angle grinder
900
1500-2000
Circular saw
1400-1800
2500-3000
Air compressor 1 hp
2000
5000
Well pump 1/3 hp
750 – running
1400-3000 – starting
3000-5000
Name
Continuous Power
More Power Options
USB
LCD Display
Remote Controller
Sine wave
Review
EDECOA

best overall

3500W/12V
no
0
yes
yes
pure
Review
Potek

modified sine wave

3000W/12V
2000/12V, 5000/12V
3
no
yes
modified
Review
AIMS Power
2000W/12V
180/12V, 300-1000W/12V, 1500-3000W/12V
1
no
yes
pure
Review
Best Inverters for Charging Power Tools Reviews
EDECOA – best overall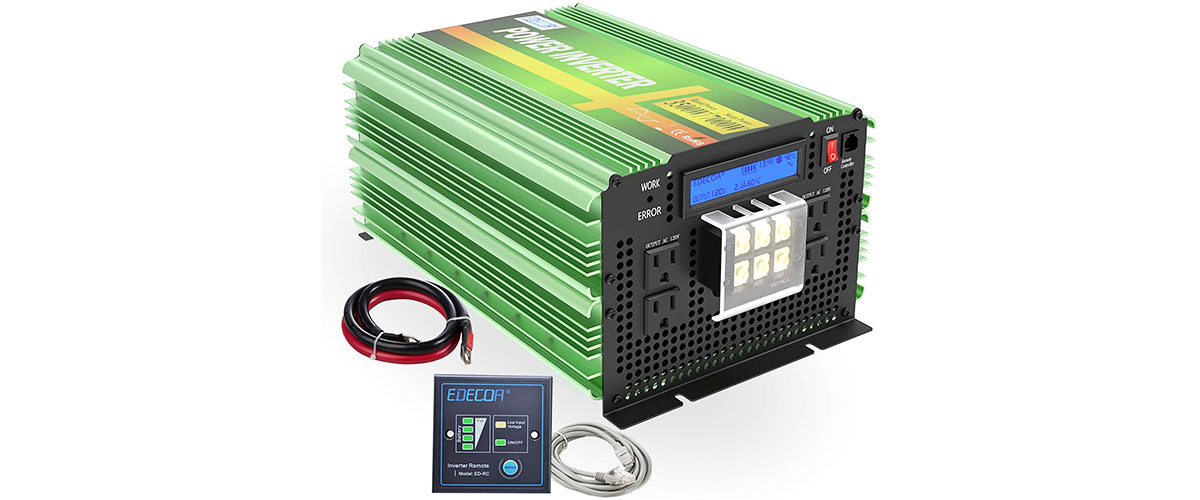 EDECOA supplies high-quality solar products and has won a good reputation in both domestic and international markets for its reliability, durability, and excellent performance of products.
EDECOA inverter is designed to handle heavy-duty power tools with ease. It produces pure sine wave, which is more stable than many generators and provides clean, reliable power. Besides, this unit can generate up to 7000 watts of surge power and 3500 watts of continuous power at 12 volts, making it perfect for running electric drills or powering an air compressor.
The inverter includes an LCD, remote control, 4 AC outlets, and 1 AC terminal block function for more convenience.
EDECOA is the overall best inverter for charging power tools – it provides continuous, uninterrupted power, making it suitable even for industrial usage. It'll successfully power all household loads you'll throw at it!
Key specs
Continuous Power: 3500W/12V
More Power Options: no
USB: 0
LCD Display:yes
Remote Controller: yes
Sine wave: pure
Pros
Pure sine wave
Safe – intelligent protection system
It can run about 13 hours
Great for camping or boat trip.
AIMS Power
AIMS Power inverter is one of the top-rated products in this segment.
The unit has pure sine wave output that can be modified to accommodate your application. It has a 2000-watt continuous power and 4000-watt surge power, which is more than enough for most people.
More importantly, AIMS Power has an overload and short circuit protection, so you don't have to worry about sparks flying everywhere when you're working on something important. It also includes double-duty cooling fans to keep everything running at peak performance!
The device comes complete with a 20 amp GFCI receptacle and 2 USB outlets, giving you the ability to power all of your devices from one source. Finally, you'll love how easy it is to use this inverter! All you need to do is flip the switch from off to on and then plug in your device like normal. There's no need for complicated setups or anything like that.
If you're looking for an efficient inverter to run power tools, AIMS Power may be the right choice for you. This is the most technologically advanced model on the market, which ensures wide use of applications.
Key specs
Continuous Power: 2000W/12V
More Power Options: 180/12V, 300-1000W/12V, 1500-3000W/12V
USB:1
LCD Display:no
Remote Controller: yes
Sine wave: pure
Pros
The efficiency of 90%
Safe
Great with sensitive equipment
Meets industrial standards.
Cons
Doesn't have screw eyelets or other ways to mount.
Giandel PS-3000QBR
Giandel is a leading Australian brand that has been manufacturing high-quality inverters for more than ten years.
Giandel PS-3000QBR is perfect for running power tools and other light electrical appliances. With a pure sine wave output, this unit is guaranteed not to damage your sensitive equipment. In addition, it provides 3000W continuous power and 6000W surge power – that's even more than the top list competitor AIMS power can offer!
Besides, PS-3000QBR can boast 4 outlets and 2 USB ports, which is very convenient for various indoor and outdoor applications. Thus, you can power and charge your devices simultaneously.
This inverter is also extremely safe to use, equipped with advanced protection technology that provides multiple layers of defense against power overloads and short circuits.
Giandel PS3000QBR is a reliable and highly efficient inverter. Besides, it's a great choice for running smaller appliances and power tools at once.
Key specs
Continuous Power: 3000W/12V
More Power Options: 3000W/24V
USB: 2
LCD Display:yes
Remote Controller: yes
Sine wave: pure
Pros
Powerful and safe
Robust construction
Charges devices fastest up to 2.4Amps
Remote control with light indicators
LCD display
Potek – modifiend sine wave
Potek is a budget-friendly power solution with 3000-watt continuous power and 6000-watt surge power. It has four AC outlets and two USB charging ports, allowing it to power various electric/car conversions such as refrigerators, air compressors, coffeemakers, drills, and other devices.
This model has over-voltage protection to ensure your and your device's safety. To keep the inverter running smoothly, its 60mm fans turn on when the temperature exceeds 104 degrees Fahrenheit (40 C) and switch off when the temperature is back to normal.
The inverter's overall size of 14 x 12 x 13 inches makes it portable for RV owners who need to take their appliances out on trips or elsewhere.
Potek features a modified sine wave; however, it's very powerful. Besides, this model is lightweight and compact – just perfect for those who are always on the go.
Key specs
Continuous Power: 3000W/12V
More Power Options: 3000W/24V
USB: 2
LCD Display:yes
Remote Controller: yes
Sine wave: pure
Pros
Has 4 AC outlets, 2 USB ports, and Bluetooth
Intelligent protection system
Easy to use
Affordable.
Cons
Maybe a bit noisy under load.
What to look for when choosing an inverter to run power tools?
Pure sine wave inverter or modified for charging power tools?
The market offers 2 types of inverters – pure sine wave and modified sine wave inverters. So, what's the difference between them?
Modified sine waves are usually less expensive and less powerful. However, they're ideal for most everyday electronic gadgets, but not particularly big ones.
Pure sine waves can be used on virtually any electronic device, gadget, or appliance and generate a strong current comparable to that supplied by the electric grid. These are the most popular options because they're more likely to work with anything you want to plug in. Besides, pure sine waves are more suitable for sensitive electronics like phones, laptops, tablets, and similar devices.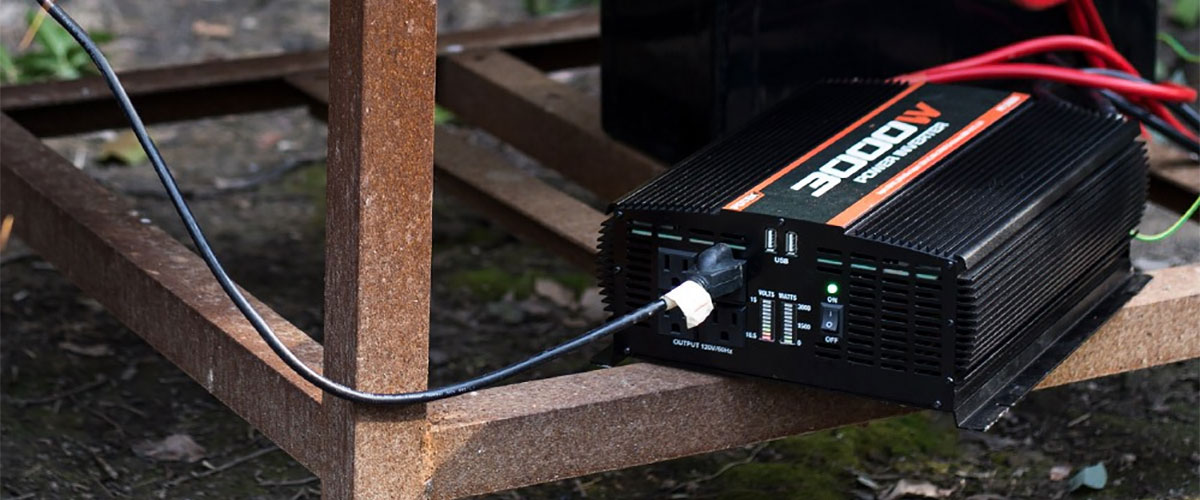 Continuous and peak power of inverters
The other thing to consider when choosing a power inverter for running power tools is the difference between continuous and peak power output.
The peak wattage that an inverter can deliver for brief periods of time when the demand rises is known as peak output. In contrast, the continuous output is the maximum amount of power that may be produced consistently.
If your appliances consume a total of 600 watts, you'll need an inverter with a continuous output rating of not less than 600 watts. In that case, just having a 600 peak and 300 continuous wattage won't do.
Required connections
Think about how many devices you want to connect to your inverter.
Most power inverters include USB ports and AC outlets, allowing you to charge your phone and laptop at the same time. The number of ports required will be determined by the number of gadgets you have. More ports = higher cost inverter with a higher AC and USB.
Safety certification
When selecting an inverter, do pick the one that is certified by the ETL (Electrical Testing Laboratories) and/or UL (Underwriters Laboratories). The ETL and UL seals indicate that the product meets all North American safety standards; it protects against overloading, overheating, shorts, and other electrical faults.