When running power tools such as an electric drill or circular saw, a good power inverter can make your life a lot easier. This device changes the DC (direct current) from your car battery into AC (alternating current), meaning you can run your power tools without ever having to worry about recharging the battery!
This review will cover the best power inverters for running power tools available on today's market. I'll also explain what features and specs to consider to choose the model that will meet all your needs. Interested? Then let's dive in!
Best Inverter for Running Power Tools
The overall best inverter for running power tools is the EDECOA. It produces stable, clean energy which helps protect tools from surging out.
Below is the complete list of the best inverters for power tools.
Name
Continuous Power
More Power Options
USB
LCD Display
Remote Controller
Sine wave
Jump to
EDECOA

best overall

3,500W/12V
no
0
yes
yes
pure
Review
Potek

cheapest

3,000W/12V
2000/12V, 5000/12V
3
no
yes
modified
Review
Greanteck

most power

10,000W/12V
no
1
yes
yes
pure
Review
What size inverter do I need for power tools?
It's very important to choose the right size of the inverter, this way you'll make sure it has enough power for your applications.
The most common sizes for these units are 1000, 3000, and 5000 watts. Which one to choose will depend on the watts or amps of tools you want to run. Besides, you should consider how much power your tools require to start up (surge power) and continuous load.
It would be wise if you get an inverter that's double the size of the power tool's startup/surge watts. It may seem excessive, but keep in mind that power tools, like all electronics, are susceptible to power spikes. So, it is essential to have an inverter that can manage a lot of electricity if this happens.
Below are the power requirements for popular power tools.
Tools
Tool's Watts
Minimum inverter's size
Angle grinder
900
1500-2000
Circular saw
1400-1800
2500-3000
Air compressor 1 hp
2000
5000
Well pump 1/3 hp
750 – running
1400-3000 – starting
3000-5000
Best Inverters for Charging Power Tools Reviews
EDECOA – best overall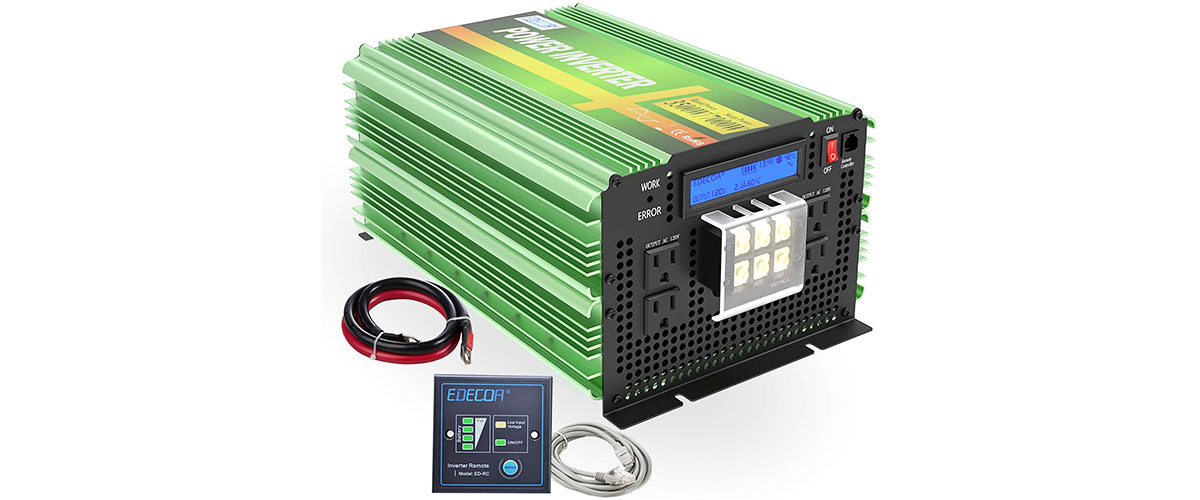 EDECOA inverter is designed to handle heavy-duty power tools with ease. It produces pure sine wave, which is more stable than many generators and provides clean, reliable power.
The inverter can continuously power up to 3,500 watts at 12 volts. The peak power is 7,000 watts, which should be enough for most power tools. Best of all, this inverter just needs to be plugged into a battery, and it can power your electronics and tools.
In terms of outlets, there are 4 AC outlets and an AC terminal block function. There is also a remote, as well as an LCD screen that displays the power voltage and battery status.
EDECOA is the overall best inverter for charging power tools. It converts the power to pure sine waves, and has a peak performance of 7,000 watts.
Key specs
Continuous Power: 3500W/12V
More Power Options: no
USB: 0
LCD Display:yes
Remote Controller: yes
Sine wave: pure
Pros
Pure sine wave
Remote
It can run about 13 hours
Great for camping or boat trip when you are off the grid
Potek – cheapest (modified sine wave)
Potek is a budget-friendly power solution with 2,000 watts of continuous power and 4000-watt surge power. In terms of outlets, it comes with 3 AC outlets and a USB charging port for your electronic devices, which can power most drills, saws, and other power tools. It also comes with a USB port.
One of my favorite features about this inverter is the safety protections. It comes with over voltage and over-current protection, as well as under-voltage and short circuit protection. It also has cooling fans to help prevent over heating. What I really like about the fans is that they only turn on when the inverter reaches 104 degrees farenheight, so before that happens the inverter is very quiet.
Along with being very affordable, this inverter is much more compact compared to similar models. The inverter's overall size of 14 x 12 x 13 inches.
Potek features a modified sine wave and is both affordable and compact.
Key specs
Continuous Power: 2000W/12V
Peak Power: 4000W/12V
USB: 1
LCD Display:yes
Remote Controller: yes
Sine wave: pure
Pros
Pure-sine waves
Great built in protections
Affordable.
Cons
Can only power 2,000 continuous watts.
Greanteck– Most powerful inverter for power tools
If you are looking to use heavy duty power tools with an inverter, the Greanteck Power inverter is your answer.
This inverter converts the power to pure sine waves, and is able to deliver up to 5,000 continuous watts of power and 10,000 surge watts. The inverter has 4 AC outlets, 2 USB ports, and a Type-C outlet.
This inverter also features an LCD screen which shows the battery status and voltage. There is also a remote you can use to power the inverter on and off.
There are also a bunch of built in safety features that help prevent over and under voltage. Best of all, this inverter comes with a 2 year warranty, so you can return it within that window if you are not satisfied.
This is the perfect inverter if you want to run heavy duty power tools on an inverter.
Key specs
Continuous Power: 5000W/12V
Surge Power: 1000W/12V
USB:2
LCD Display:yes
Remote Controller: yes
Sine wave: pure
Pros
Pure-sine waves
Built in safety features
Can power heavy-duty power tools
Cons
It's expensive.
It's pretty big.
Choosing an inverter to run power tools?
Pure sine wave inverter or modified for charging power tools?
The market offers 2 types of inverters – pure sine wave and modified sine wave inverters. So, what's the difference between them?
Modified sine waves are usually less expensive and less powerful. However, they're ideal for most everyday electronic gadgets, but not particularly big ones.
Pure sine waves can be used on virtually any electronic device, gadget, or appliance and generate a strong current comparable to that supplied by the electric grid. These are the most popular options because they're more likely to work with anything you want to plug in. Besides, pure sine waves are more suitable for sensitive electronics like phones, laptops, tablets, and similar devices.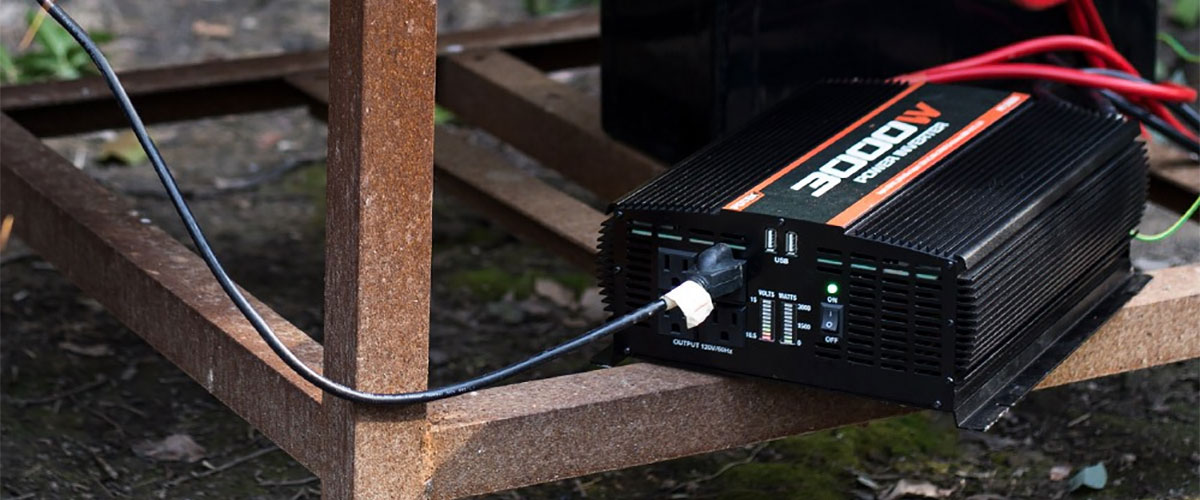 Continuous and peak power of inverters
The other thing to consider when choosing a power inverter for running power tools is the difference between continuous and peak power output.
The peak wattage that an inverter can deliver for brief periods of time when the demand rises is known as peak output. In contrast, the continuous output is the maximum amount of power that may be produced consistently.
If your appliances consume a total of 600 watts, you'll need an inverter with a continuous output rating of not less than 600 watts. In that case, just having a 600 peak and 300 continuous wattage won't do.
Required connections
Think about how many devices you want to connect to your inverter.
Most power inverters include USB ports and AC outlets, allowing you to charge your phone and laptop at the same time. The number of ports required will be determined by the number of gadgets you have. More ports = higher cost inverter with a higher AC and USB.
Safety certification
When selecting an inverter, do pick the one that is certified by the ETL (Electrical Testing Laboratories) and/or UL (Underwriters Laboratories). The ETL and UL seals indicate that the product meets all North American safety standards; it protects against overloading, overheating, shorts, and other electrical faults.