Today cars are no longer just a means of transportation as each power inverter manufacturer stuffs its product with a bunch of incredibly useful features that many motorists love. If you are planning to use the car in a wider range, I suggest you consider the best power inverter for the car. It is a device that is capable of converting your vehicle's DC electrical power (12V / 24V) to AC voltage, which can be used to power or charge a great range of household appliances and accessories.
Such a device has a number of significant advantages. If you have it in your car, you can easily use a wide range of different devices that have become an integral part of the car. These devices include TV, DVD, and Blu-ray players, all sorts of game systems, Catalytic heaters, Power tools, and many others. In my review, I will help you to find a decent 12V to 110V inverter, choose the most appropriate model for your vehicle, and explain all the details you need to know about these appliances.
Best power inverter for a car
The best power inverter for a car is the
BESTEK MRI12011AU
. It can power a wide ranasge of electric appliances, and features a very useful LED screen.
Wattage – one of the most important things
Among the best power inverters for cars, there are many different models on the market. Initially, you need to decide on the power that will be required from it. In fact, there are both 100W and 4000 – 5000W. In addition, when choosing, it is always necessary to understand the approximate model of using the device.
If you decide to purchase such a system, when connecting the inverter, you should take into account the power of the connected device. For example, if you connect a phone or laptop, you shouldn't start the car and use the battery power. We all know perfectly well what troubles and unforeseen situations happen when the battery is discharged at the most inopportune moment. Therefore, if the power of the connected device is more than 500W, then it is better to start the vehicle so as not to discharge the battery. Now, I propose to briefly review the list of devices in relation to the amount of energy they consume.
Laptop – about 50W
Mobile Phone Chargers – approximately 2 – 6W when charging
Microwave – 1200W
Electric kettle – approximately 1000 – 1200W
Light Bulb – 100W
In addition, before buying, you should definitely find out the power of the car generator. To avoid complete discharge of the battery, the power of the inverter must not exceed the power of the machine's generator. Also, keep in mind that not all of the generator's power will go to the inverter when the engine is running. As a rule, about 50% of it will be spent on the needs of other vehicle systems. Here is a short example of car models and their generator power.
2019 Ford F-150, 3.5L – 4900W
2017 Toyota Camry, 2.5L – 3000W
2018 Ford Focus, 2.0L – 2700W
And finally the most important thing. When choosing an inverter, you should always pay attention to its power surpassing the devices that will be connected to it at the same time. If you connect more powerful equipment to a low-power inverter, there is a huge chance that it will simply fail due to operation at maximum loads.
In this way, we come to the most important rule. The power of the inverter must be twice as large as the total power of all simultaneously connected devices that consume energy.
Ways to connect the car power inverters
Cigarette lighter
Inverters that are connected to a car cigarette lighter are primarily suitable for operating a laptop, charging a phone, and the like. For such tasks, it is easiest to choose inverter models with a power of no more than 100 W. The fact is that it is the cigarette lighter that gives out no more than 100 W, to which the inverter is connected.
Direct connection to the battery
If your choice falls on more powerful inventory for more resource-intensive tasks, it is important to remember that they connect directly to the car battery since they are more powerful and can deliver more than 1000W. Often, they are used for outdoor recreation and connecting tools, TVs, household appliances, and other similar consumers who need a more powerful inverter.
Pure sine wave inverter vs modified
Some inverter models produce a modified sine wave. In fact, it is great for instruments that are not sensitive to waveform at all. First of all, these are heating devices, incandescent lamps, devices that have switching power supplies, such as computers, laptops, digital TVs.
During the operation of a modified sine wave inverter, more noise enters the power grid, so medical equipment and communication systems may be unstable. An unfavorable phenomenon appears that affects transformers and electric motors: the device starts to warm up, and the efficiency decreases.
On the other hand, there are some devices that are susceptible to various kinds of interference, for example, compressors, electric motors, pumps, etc. The point is that they only work with a pure sine wave, which is generally more stable than a modified sine wave.
Generally, these inverters are usually more expensive but can work with just about any electrical device or appliance.
In the event that a car serves as a home for a traveler. For instance, there are travelers who travel for weeks or months and usually have to rely on their inverters to potentially charge laptops, phones, portable speakers, and more. In such a case, I highly recommend devices with the pure sinusoidal current.
In another situation, if you do not travel for a long time and do not need to connect demanding electronics to an inverter and charge your gadgets at home 90% of the time, you can just save money and not waste it on a car inverter with a clean sine wave, but simply select a modified sine wave converter.
Power Inverters For Car Comparison Table
Name
Continuous Power
More Power Options
AC outlers
USB
Sine Wave
Connection
Review
BESTEK MRI12011AU

best overall

1200W/12V
no
2
2
pure
direct
Review
GIANDEL
2000W/24V
2200W/12V, 4000W/12V, 4000W/24V
2
1
pure
direct
Review
Kinverch PA1000-1131
1000W/12V
no
2
1
pure
direct
Review
Energizer ENK1100
1100W/12V
100-500W/12V, 1100-2000W/12V, 3000W/12V, 4000W/12V
2
2
modified
direct
Review
BESTEK MRZ3011HU
300W/12V
no
2
2
pure
cigarette lighter
Review
SUPERONE
150W/12V
no
1
2
modified
cigarette lighter
Review
Pure Sine Wave Inverter Reviews
On the market of power inverters, BESTEK MRI12011AU can be called the best power inverter for a car, and in no case should it be mistaken. Let's see why this gadget is so good. First of all, BESTEK is the top 1 US brand for car inverters. In addition, the first thing that catches your eye is the Digital LCD display, which is very easy to use. It can show you the input and output voltage, output power, and protection indication in time.
If we are talking about technical characteristics of the best car power inverter, it is important to clarify that DC to AC power inverter MRI12011AU Supply 1200W. Also, this gear supports 2 AC outlets and 2 USB quick charging ports. You shouldn't worry about charging the MRI12011AU either: it boasts built-in 4*50 amps fuse to protect your device and battery from overheating, overload, under or over voltage charging, and short-circuiting. Besides, there are several things you have to know.
The device features a pure sine wave, and in terms of connections, it boasts its direct connection. Moreover, MRI12011AU has an extremely convenient cooling system. The fan automatically rotates according to the power load and overall temperature of the system. But as for me, the cooling system still needs improvements because it seems quite unreliable in cases with continuous big power loads.
Key specs
Continuous Power: 1200W/12V
More Power Options: no
AC outlers: 2
USB: 2
Sine Wave: pure
Connection: direct
GIANDEL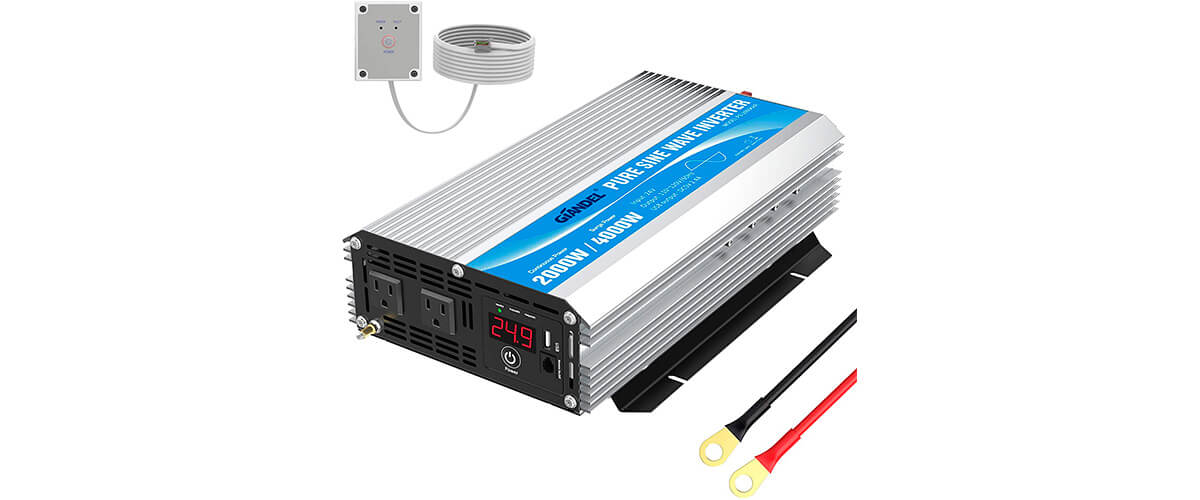 If you are looking for great power inverter for a car – GIANDEL PS-2000KAR is a great solution. What I really like is its casing. Aluminum alloy casing prevents falls and perfectly protects the entire inside of this inverter. It is definitely one of the best 2000 watt inverters on the market.
Firstly, the manufacturer offers several power options to choose from. This is done on purpose to make it super convenient and easy for you to pick the right spec. This particular model offers Continuous Power at 2000W / 24V. But as already mentioned, there are variations of 2200W / 12V, 4000W / 12V and 4000W / 24V respectively. A LED display tends to be good, quite visible, and simple in usage. In fact, I don't like that the gear does not correctly display either the watts or kilowatts during use.
This inverter has two 120V AC Dual Outlets and 1×2.4A USB ports for easy connections. In addition, the device supports pure Sine Wave and direct connection. Besides, PS-2000KAR supports remote control for even more convenient use, turning on and off when connected in a car. Another positive moment is a built-in fuse for protection against overvoltage, reverse polarity, and short circuits. If we're talking about filling, I must confess that some of the internal components are made of substandard materials that are easy to heat under heavy loads.
Key specs
Continuous Power: 2000W/24V
More Power Options: 2200W/12V, 4000W/12V, 4000W/24V
AC outlers: 2
USB: 1
Sine Wave: pure
Connection: direct
Kinverch PA1000-1131
Let's see why it is so good. The device Provides 1000W continuous or 2000W surge power. For this reason, it is ideal for trips and camping. In addition, it boasts a stable pure sine waveform with no deformation. It has a wide range of applications for many equipment and devices. Thanks to its reliability, it can easily handle charging even the most sensitive devices. Kinverch PA1000-1131 features two 115V AC outlets and one 2A USB charging port. Thus, the inverter is well suited for powering fans, players, TV, and other devices.
The device features built-in 40AX3 /250V fuses, so it has five protection systems: over-voltage, overload, over-heating, under-voltage, short circuit protection. Moreover, when talking about advantages, it's necessary to mention the presence of a cooling fan for cooling the system even during a strong load. It works great and simplifies the work with the device, making it even safer to use. Although this model is really good, it is quite loud even with small loads.
Key specs
Continuous Power: 1000W/12V
More Power Options: no
AC outlers: 2
USB: 1
Sine Wave: pure
Connection: direct
VOLTWORKS
On the one hand, VOLTWORKS is an ordinary inverter for completely ordinary needs: to charge your phone, laptop, and more powerful appliances while camping, for example. On the other hand, among automobile power inverter reviews, this particular device stands out for its simplicity and convenience.
First of all, I would like to note the very convenient design of the device. For its small size, this pure Sine Wave inverter delivers Continuous Power at 2000W / 24V. Plus, it has more power options like 2200W / 12V. In addition, VOLTWORKS is equipped with two AC sockets, two USB inputs, remote control for your personal comfort, and it also has a direct connection. Appliance's cooling system works well but overheats easily. That's why I would not recommend this inverter for long-term usage.
Key specs
Continuous Power: 2000W/24V
More Power Options: 2200W/12V
AC outlers: 2
USB: 2
Sine Wave: pure
Connection: direct
Modified Sine Wave Inverter Reviews
Energizer ENK1100
In its work, such a vehicle inverter as Energizer ENK1100 shows itself perfectly. In short, the device supplies Continuous Power at 1100W / 12V. If, for some reason, this does not suit you, the developer company has made many variations of this device, each of which will suit different users: 100-500W / 12V, 1100-2000W / 12V, 3000W / 12V, 4000W / 12V.
If we're talking about power, it's worth mentioning the protection of the device. It is designed with all the smart protections you will need, such as low battery shutdown, overload, and short circuit protection. Buyers should also know about the connectivity of this modified sine wave inverter. It supports Dual USB Charging Port 2.1A and 1 Standard North American AC Outlet for Charging Larger Devices. An obvious advantage is the copper heat sink, which made it possible to build a fanless ultra-silent 100 Watt car power inverter with a high peak rating of 200 watts. However, if you are going to continuously load your gear, mind taking a break due to the fact that it tends to overheat because of plastic details.
Key specs
Continuous Power: 1100W/12V
More Power Options: 100-500W/12V, 1100-2000W/12V, 3000W/12V, 4000W/12V
AC outlers: 2
USB: 2
Sine Wave: modified
Connection: direct
Ampeak IVUFA1000
Ampeak IVUFA1000 is a good modified sine wave inverter. The developer offers both a standard 1000W / 12V version and another 2000W / 12V variation. Despite two available versions, it's still not suitable for use with audio equipment, large tools, and medical machines.
Besides the standard specifications, the connectivity options are worth mentioning. IVUFA1000 is equipped with 2 AC outlets and a 2.1A USB port. Moreover, this gear has a well-readable LED display and an audible alarm for quick notifications of system changes.
With these characteristics, the device becomes ideal for charging or continuous operation of a cell-phone, laptop, electric light, digital camera, breast pump, TV, electrical tools, microwaves, and other electronics. Personally, I love the built-in 5 x 25A Mini Slip Fuse which is designed to protect against over or low voltage, overload, short circuit, and even overheat. Thanks to its robust design, it has the technology of ABS crashworthiness, robust, as well as good electrical insulation.
Key specs
Continuous Power: 1000W/12V
More Power Options: 2000W/12V
AC outlers: 2
USB: 1
Sine Wave: modified
Connection: direct
Cigarette Lighter Inverter Reviews
Pure sine wave cigarette lighter inverters
BESTEK MRZ3011HU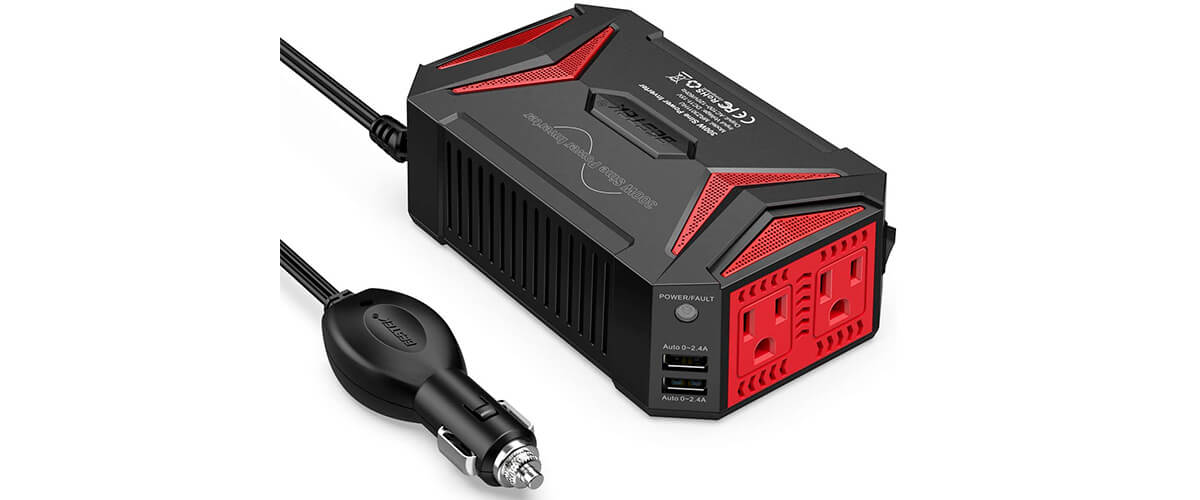 Pure sine wave cigarette lighter inverter MRZ3011HU is one of the most impressive creations of BESTEK company. The device boasts of its compactness combined with a good Continuous Power rating of 300W / 12V. It is equipped with 2 AC outlets and two smart USB charging ports. They can detect your devices automatically to deliver their fastest charge speed up to 2.4 amps per port / 4.8 amps max, and you can charge most phones and tablets simultaneously.
What's more, it has a built-in 40 amps fuse to protect the system from overheating, short circuit, overloading, or over-voltage charging. In some cases, fuses will be very helpful. The appliance comes with a cooling system that will save it from overheating.
Key specs
Continuous Power: 300W/12V
More Power Options: no
AC outlers: 2
USB: 2
Sine Wave: pure
Connection: cigarette lighter
Modified sine wave cigarette lighter inverters
SUPERONE
The first thing I would like to note about SUPERONE is its interesting design. Made in a cylindrical shape, this modified sine wave inverter is incredibly convenient to use and does not interfere with its presence in the car. This model can be installed in the cup holder in the car, so you can be sure that it is very securely fixed in its position.
In addition, the plastic from which the device is made is very pleasant to the touch and does not look cheap. It provides 150 Watts continuous DC to AC power and 180 Watts instantaneous power. In addition to a reliable 15A fuse that prevents short circuits, overloads, etc., it is replaceable, that is, you can simply buy a new one if an original fuse breaks. SUPERONE is ideal for small needs on the road, for example, it is the best car inverter for a laptop, phone, and various small devices. However, it cannot work for a long time under constant load, requiring time for rebooting and cooling despite the built-in cooling system. The appliance has built-in only 1 AC outlet but 2 USB ports. An obvious advantage is the smart cooling system, which automatically turns on when the inverter's internal temperature reaches 100 ℉ / 38 ℃.
Key specs
Continuous Power: 150W/12V
More Power Options: no
AC outlers: 1
USB: 2
Sine Wave: modified
Connection: cigarette lighter
BESTEK MRI3011BU
BESTEK MRI3011BU cigarette lighter inverter is a combination of practicality and simplicity. The manufacturer offers only one version in 300W / 12V, which is more than enough for charging laptops, phones, and other undemanding devices. But what I didn't like at all, when the energy consumption exceeds 70W, the cooling system starts up, which makes an unpleasant noise and is not completely quiet.
What's nice is the presence of 2 AC outlets, 2 USB ports, and a built-in 40 amps fuse that works great, protecting the device from overload or short circuit.
Speaking of the advantages, the small weight and compactness of the device should be separately mentioned. It fits comfortably in a small space around the cigarette lighter without disturbing the driver or passengers. As the manufacturer claims, the lighter socket is resistant to up to 5000 times of insertion and extraction. The metal finish on the MRI3011BU is also very well done. Firstly, it has an extremely pleasant color that does not irritate the eyes. Secondly, the case is very durable and reliable, which helps to prevent damage from a fall.
Key specs
Continuous Power: 300W/12V
More Power Options: no
AC outlers: 2
USB: 2
Sine Wave: modified
Connection: cigarette lighter
Buyers Guide
Continuous vs peak car power inverter outputs
There is always one factor to consider when choosing the right inverter for your vehicle. It is important to know the concept of peak power. This is the power that the inverter can supply for short periods of time during demand surges. On the other hand, there are concepts of continuous power, which is the limit for normal operation. If the devices you choose to draw up to a total of 600 watts, you will need to buy an inverter with a constant output of 600 watts. An inverter rated for 600 peaks and 300 continuous values ​​will simply not help you, and you will just waste your money.
What size car inverter do I need?
If you are unsure of the exact power requirements of your devices, you can figure it out using simple math. Let's take a look at specific examples. The key formula for this is: Amps x Volts = Watts.
It's very simple: you need to multiply the input amps and volts of each device to determine its consumption in watts. But if you go the easy way, this information can often be found on the Internet. In other cases, it is better to look at the power source.
As I said, for example, your kids want to use the Playstation in the car. In such a situation, you need to study the power sources. This is necessary because Sony has released a number of models with different power requirements over several years.
If we plug in the numbers, it looks pretty simple. First, you need to look at the power source for a specific device model. For example, its input voltage is indicated as "100-127 V" and the current is "~ 5 A". If we just plug these numbers into our formula, we get: 5 x 120 = 600. The number 600 means that you need a 600W inverter to use the console in the car.
Can a modified sine wave inverter damage electronics?
Many people probably don't mind using an inexpensively modified sine wave inverter in your camper. However, there are a few different things that you don't want to run off a modified sine wave.
For example, any device that uses an AC motor isn't going to work to full capacity on a modified sine wave. Appliances such as refrigerators, microwaves, and compressors that use AC motors fall into this category. They just won't run as efficiently on a modified sine wave as they would on a pure sine wave.
When choosing, it is important to remember that running an AC motor on a modified sine wave may lead to a buildup of excess waste heat that could damage the equipment. In fact, you can still do this, but at your own risk.
A modified sine wave can also interfere with the technique. For example, if you are charging the radio and trying to listen to it, there are often situations where interference is heard. This is precisely due to the use of the modified sine wave.
It is important to remember to be careful when working with medical equipment. For example, a pure sine wave inverter will perform much better if you use a CPAP to help correct apneas when you're asleep. Also, when dealing with CPAP, their manufacturers often warn that you can damage your machine with a modified sine wave inverter.
Many, perhaps most, medical equipment, such as oxygen concentrators, also need a pure sine wave. When working with this equipment, you're better off using pure sine wave power or looking for a unit that can be powered by DC without the need for an inverter at all if it's available.
How to install a power inverter in a car?
Before installing a car power inverter directly, there are three key points you have to know.
First, you need to be aware of the portable device power requirements. The fact is that the inverter needs to be able to supply enough power for all of the devices that you want to plug in at once.
Secondly, it is very important to be aware of the inverter installation locations. Most inverters can be installed anywhere. The point is different, and you first need to think about accessibility for plugging devices, how you are going to connect it to power and ground, and whether it will be able to safely dissipate the heat that it generates during use.
The third and final point is understanding the power inverter wiring issues. Small inverters usually run on a cigarette lighter, and it's easy to understand. But when we talk about larger inverters, they have to be wired directly to the battery with a large in-line fuse.
Where is the best place to install the inverter
The inverter is not a new thing, so users are already accustomed to using "normal" locations for their inverters, for example, In the trunk, underneath a seat, or Inside the glove compartment. More thoughtful people often mount it to the floorboards.
When you finally come to consider the locations for placing your inverter, be sure to decide on two things. First, think about where your power input is going to come from. Second, figure out how easy it will be to plug in your devices.
Another of the most important details, in this case, is the consideration of such an item as heat dissipation. Most inverters have built-in fans, and a lot of them are actually designed as big heat sinks. If your inverter has a fan, you'll have to find an installation location where the airflow won't be blocked. Otherwise, the airflow will be incredibly warm, which in the future may either overheat the device too much or start a fire.
Сan you use an inverter while driving?
One of the most common questions is whether a cigarette lighter or a direct connection to the battery inventory can be used while driving. In fact, yes, of course, you can.
In such a situation, the most important thing is to follow the rules described above. It is always important to remember that the power of the inverter must not exceed the power of the vehicle's generator in order not to completely discharge the battery. The sudden discharge of the battery is accompanied by many unpleasant problems with which we would clearly not want to spoil the mood.
Can I use a car battery for the inverter?
Answering shortly – Yes, you can. However, this is not a good idea as it is not worth draining your car's battery.
For example, a small inverter that works from a cigarette lighter just to charge a cell phone does not cause any problems. There is simply not enough space in the cell battery to displace 10% of the car battery charge.
But if we're talking about larger inverters – you need to be more careful. A 2000W inverter can place a strain on the battery or damage it. For example, if the vehicle is going to be stationary for a while, on a campsite, for example. When the vehicle is still, the battery is not charging, obviously. In this instance, consider running the engine frequently to top up the battery charge level.
If you are considering long-term stops, consider bringing some car batteries with you to hook up to the inverter instead of the installed car battery.
Can you charge a battery while using an inverter?
In fact, it's completely safe to keep your Inverter connected when charging your battery.
This is a very common practice, but unfortunately, the charger suffers from this. Nothing bad will happen to your inverter, as well as to the battery. As long as you have the inverter connected, the battery is never going to get fully charged. Thus, the charger is going to run at full tilt for as long as your inverter is running. Of course, doing this is undesirable since the sucker is going to run hot and one day will simply burn out.
Why is my power inverter beeping?
Usually, if a person complains about beeping an inverter, there are three reasons for this and the same three solutions, let's take a closer look at them.
The most common reason for continuously beeping an inverter is that it is running or operating on battery power. The beeping lets the user know that the unit is transferred from online operation to battery operation. The solution to this problem is quite simple: in this situation, the battery power supplied outlets have now become battery powered.
Another reason for the beeping sound could be an alarm for a low battery. Basically, it's obvious – your battery needs recharging. In addition, some inverters have an auto-shutdown function to prevent the battery from completely discharging. Typically, the alarm rings for 2 minutes before shutting down.
The third reason for this sound is capacity overload. If the device is in overload condition then you will hear the alarm and must remove the non-essential equipment. The alarm will keep ringing until you remove the extra load. If your inverter is not enough for you, consider options for a new one.
What happens when the car inverter overloads?
You can only connect devices to an inverter that does not exceed their rated power. If you still try to connect loads bigger than its rated power, it would get damaged without protection.
In any case, with built-in overload protection, the inverter won't start or stop running without any damage. Situations also happen when after a few seconds, the inverter tries to start again automatically in the case of extra loads being removed. If for some reason, you haven't done this, the inverter will definitely turn off again.
If you make a few more attempts, you will have to restart your device manually. It is also important to understand the fundamental difference between continuous and short time overload. In this situation, short-time overload means that overload condition is present. For example, kitchen appliances like a microwave oven often require a very big current when startup than their rated power. In such a situation, the inverter can take up to 200% overload for a short time.