Inverters can come in handy whether camping, driving long distances, or staying at home during power outages. This gadget converts direct current (DC) to alternating current (AC), which is utilized by most electronics. A 2000 watt inverter is a very reliable power backup that can meet all your needs. With the proper model, you can safely run or charge your sensitive gadgets, such as radiators, battery chargers, gaming consoles, coffee machines, phones, laptops, etc.
The best 2000 watt inverter, however, is a difficult choice with so many options available on today's market! This review will help you make the best decision possible.
Our pick
VOLTWORKS VS-2000PBR
Best 2000 Watt Inverter
High quality, intelligent design, and clean pure sine waves make it possible to take small power plants everywhere in your vehicle.
Name
Continuous Power
More Power Options
AC outlers
USB
LCD Display
Sine wave
Review
VOLTWORKS VS-2000PBR

best overall

2000W/24V
2200W/12V
2
2
yes
pure
Review
Ampeak

budget

2000W/12V
1000W/12V
3
1
yes
modified
Review
Energizer
2000W/12V
1100W/12V, 2000W/12V
2
2
yes
modified
Review
What will a 2000 watt power inverter run?
The amount of power required by a 2000 watt inverter is determined by the quantity of power consumed by each gadget. The combination of electronics and appliances will necessitate a steady supply of power – it means you'll need to sum up how much power you'll be using. Total power consumption will vary depending on the apparatus, whether at home or at camping.
Those with lots of gadgets may decide to invest in more powerful generators rated at 3000 watts or higher (up to 5000 watts). But generally, high-quality 2000 W inverters completely satisfy people's needs, especially if they only run basic devices like TVs and radios.
Here's a list of common electronics a 2000 W inverter can run:
Toaster – 1200 watts
Refrigerator – 750 watts
Coffee maker or microwave – 1000 watts each
TV – 250 watts
A desktop – 150 watts
Stereo – 300 watts
A heater – 1200 watts
Best 2000 Watt Inverters Reviews
Before we get into 2000 watt inverter reviews, let's compare 2 main types – pure sine and modified sine inverters.
Pure sine inverters always generate high-quality power with steady output. They're typically more expensive than modified sines but worth it for sensitive electronics like phones, laptops, tablets, etc. Modified sine inverters are more affordable because they offer lower efficiency. However, they are still suitable for basic appliances and tools.
So, before buying any model, do think about what kind of tools you're going to power; and if they contain sensitive elements, it's better to pick a pure sine model.
2000W pure sine wave inverters
Voltworks brand is focused on manufacturing premium-quality inverters. Their products have FCC, RoHS, CE certificates and meet all industry standards.
The VS-2000PBR by VOLTWORKS is a powerful and efficient 2000 watt pure sine inverter that can generate up to 12 hours of power. It has an automated voltage regulator (AVR), which maintains the output waveform at consistent AC voltage for your electronics.
The inverter comes equipped with many great features such as 2 USB ports, 2 AC outlets, hardwire terminal, a remote control, and an LCD. More than that, this unit can boast advanced protection and is safe for you and your electronics. It has overload protection with auto reset which means your appliances will not be damaged if there is an overload.
VOLTWORKS VS-2000PBR is the best 2000 watt pure sine wave inverter that the market has to offer. It combines some outstanding features that make it an excellent choice for anybody!
Key specs
Continuous Power: 2000W/24V
More Power Options: 2200W/12V
AC outlers: 2
USB: 2
LCD Display:yes
Sine wave: pure
Pros
Powerful and safe
Meets the claimed 90% efficiency
Durable aluminum housing
Ultra-silent cooling fan.
Cons
Minor remote controller issues.
GIANDEL PS-2200KSC
Giandel is a well-known Australian company that has been producing premium-quality generators for over a decade.
The PS-2200 KSC is a 12V DC to 110V 120V AC power inverter designed to generate up to 4.400 watts of surge power and 2.2000 watts of continuous power, making it perfect for running various tools and appliances.
The most prominent feature of this inverter is its solid construction – it ensures its long life and superior performance even in challenging conditions. Moreover, PS-2200 KSC is dustproof and has an IP65 waterproof rating. Even its top rival VOLTWORKS VS-2000PBR can't boast such characteristics!
Finally, this model also comes with a 20 A solar controller, LED screen, 2 AC outlets, and 2 USB ports.
GIANDEL PS-2200 KSC is one of the most versatile and reliable inverters. It can be used in RVs, trucks, cars, and homes for powering tools or providing emergency power during outages.
Key specs
Continuous Power: 2000W/12V
More Power Options: 2200W/12V, 4000W/12V, 4000W/24V
AC outlers: 2
USB: 1
LCD Display:no
Sine wave: pure
Pros
Advanced protection technology
Durable aluminum alloy construction
Waterproof – IP65
Works quietly.
Cons
Output screw terminals may not be sturdy enough to support wire gauge for 5kW.
Renogy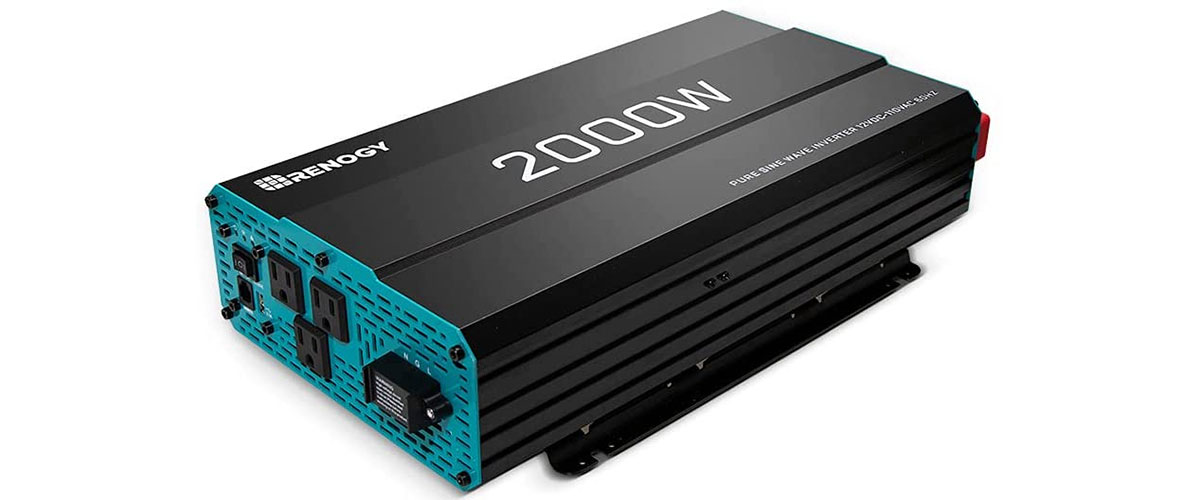 The Renogy inverter generates 2000W continuous and 4000 peak surge watts. Its 12V to 120VAC pure sine wave with conversion efficiency >90% reduces conversion loss and provides quality AC equivalent to grid power which will protect and extend the life of your electronics and appliances. Next, this unit is built with advanced technology, protecting the plugged-in devices from under-voltage, over-voltage, overheating, and short circuits.
12VDC outlets provide a total of 900 watts for things like laptops or standard household necessities, while 2×120 VAC outlets (150 VA max) allow you to operate electronics such as microwaves, televisions, computers, and more.
The inverter's quiet operation noise level of <50 dB when using 20A continuously will not bother anyone in the RV when turned on inside or outside.
GIANDEL PS-2200 KSC is one of the most versatile and reliable inverters. It can be used in RVs, trucks, cars, and homes for powering tools or providing emergency power during outages.
Key specs
Continuous Power: 2000W/12V
More Power Options: 700W/12V, 1000W/12V, 3000W/12V
AC outlers: 2
USB: 1
LCD Display:no
Sine wave: pure
Pros
Reliable quality
Totally safe for your electronics
User-friendly
ETL- certified.
Cons
Six 25A fuses are soldered in a difficult position – it may be challenging to fix them.
2000W modified sine wave inverters
Ampeak – budget
Ampeak inverter converts 12V DC battery power to standard 110V AC. This model provides 2000W continuous DC to AC power output, suitable for powering most electronics. It also features 3 AC outlets and one USB charging port, meaning you can charge your devices if there's no electricity available.
This unit has a unique 10*35A mini slip fuse that protects its circuit board from being overloaded when surge capacity is 4000W peak, it's totally safe for your devices.
Finally, the insulated ring terminal cables are much more durable and safe than conventional alligator clip cables with plastic covers, which may break off easily after several uses. In addition, a robust ABS material shell provides perfect all-round protection for your devices and inverter itself against water, dust, and heat.
Ampeak is the most budget-friendly yet powerful inverter available on today's market. So, if you're planning to buy such a model, Ampeak will be the right choice for you!
Key specs
Continuous Power: 2000W/12V
More Power Options: 1000W/12V
AC outlers: 3
USB: 1
LCD Display:yes
Sine wave: modified
Pros
Powerful, safe, and versatile
Durable housing
Audible alarm
A smart cooling fan.
Cons
Doesn't include a remote.
Energizer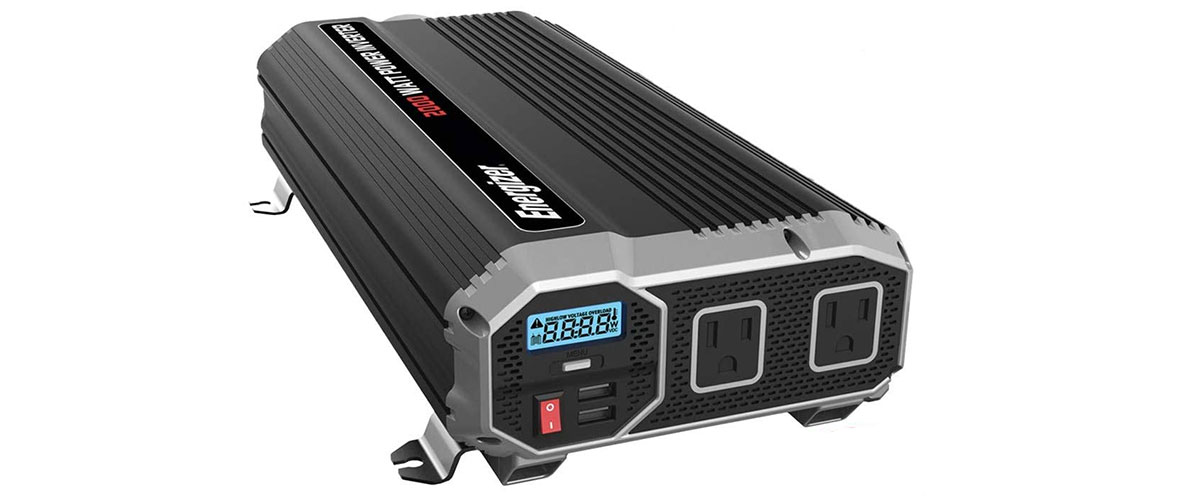 Energizer inverter is a reliable power source. It transforms the voltage and frequency from 12V to 120V AC and provides 2000 watts of continuous power and 4000 watts of peak power.
The unit features 2 USB ports that support 2.4A, so you can quickly charge your gadgets on the go. Besides that, it comes with two outlets rated 15 amps each to charge various small electronics like game consoles, game controller chargers, etc., without delay or interruption.
Overload, over-voltage, under-voltage, high temperature, and short circuit protection are all provided by the inverter. In addition, the LCD displays input voltage, output wattage, and battery level so you can readily check the rates.
The output of the Energizer is enough for most gadgets and appliances. Despite its modified sine inverter, you'll notice that it's extremely powerful and useful during power backup.
Key specs
Continuous Power: 2000W/12V
More Power Options: 1100W/12V, 2000W/12V
AC outlers: 2
USB: 2
LCD Display:yes
Sine wave: modified
Pros
A high-quality product from a reputable brand
Heavy-duty body
Includes 3-feet 2AWG battery cables
A tested and certified model.
Cons
May drain a car battery fast.
Special features that you should pay attention to when choosing a 2000 watt inverter
Power inverters are available in a variety of power capacities. When purchasing an inverter, there are several essential elements to consider:
AC outlets and USB ports
Enough USB ports and AC outlets on the inverter make it easy to charge multiple electronics – you may simultaneously charge and power your gadgets with this type of power inverter. The quantity of ports you'll need depends on how many gadgets you have. However, more ports = a more expensive inverter, so think carefully about how many electronics you'll be connecting to your inverter.
Remote control capability
This feature allows you to switch the inverter on or off from a distance. This is really handy if the inverter is linked to the battery bank.
Note that even some of the best 2000 watt power inverters don't include a remote controller, so make sure yours does before buying.
Status LEDs and LCD display
LEDs indicators are extremely useful since they show the status of your inverter at all times. They indicate the power output, battery level, and overload conditions and save you from constantly checking on your inverter when in use.
While an LCD is not crucial, it does come in handy with some inverters. For instance, you can use the built-in clock to set a time limit on how long your appliances will be powered or choose to check the output power level at any given moment.
Safety certification
First and foremost, safety! So, before you buy an inverter, be sure it's certified and up to industry requirements.
ELT, UL, and FCC seals are all recognized in the United States and indicate that the device has met all electrical and durability requirements. While these are not legally necessary, having one on your 2000W inverter will provide you with additional protection and peace of mind.
How to connect the power inverter to the car battery?
To connect an inverter to the car battery, follow these steps:
Ensure that the automobile engine is shut off.
Remove the engine compartment hood.
Set the inverter's switch to OFF.
Attach the battery clip connections to the Positive and Negative inverter terminals of your vehicle.
Place the inverter on a firm foundation.
Attach the Positive battery clip to the battery's positive terminal.
Attach the negative battery terminal to a vehicle's metal frame component
Attach the appliance cord plug to the inverter and connect a USB power cable to the inverter
Turn the inverter on and start using the appliance.
Whenever possible, try and get a professional or an electrician who is more familiar with how everything works together to help you.
Which battery do I need for the 2000W inverter?
A deep cycle battery is required. It's a rechargeable type of lead-acid battery that can be discharged down to 20% of its capacity without causing damage. It means you will get a longer life out of your inverter if it's hooked up to a deep cycle battery as opposed to another kind, like an SLI (starting, lighting, and ignition) battery.