Most cars and trucks rely on 12V electrical systems. However, larger trucks, diesel vehicles, buses, military vehicles, boats, and construction equipment sometimes require a 24V battery to obtain enough power. If your car with a 24-volt battery needs a jump start, it would be challenging to do it without the best 24V jump starter.
Whether your vehicle has one 24V battery or have construction that connects two 12V batteries in series, you will need a 24 volt jump starter. This article reviews the best 24 volt battery jump starters based on performance and price.
Does it take more power to jump start a 24 volt battery?
Yes, a 24 volt battery will require more peak volts to jump start compared to a 12 volt battery. For this reason, you will need to specifically get a jump starter that is designed for 24 volt batteries.
Best 24 Volt Battery Jump Starter
The best 24 volt jump starter is the Jump-N-Carry JNC1224. It provides a lot of power and is perfect for heavy-duty vehicles.
Best 24 Volt Jump Starter Reviews
When it comes to power and reliability, the Jump-N-Carry JNC1224 is the best 24 volt jump starter.
For 24 volt batteries, it delivers 1,700 peak amps, which should be enough for most vehicles. This jump starter also has a setting where you can switch to 12 volt batteries, and it delivers 3,400 peak amps. This makes it one of the best jump starters for diesel vehicles.
What I really like about this jump starter is that you can keep it plugged in to charge without overcharging the device. This is because the jump starter battery has a built in function where it stops charging after it reaches a full charge. This helps extends the jump starters life.
In terms of downsides, there are only three that come to mind. The first is that there is no LCD screen, which would be nice to monitor the charge of the battery. Secondly, this jump starter is a bit expensive. Lastly, the jump starter does weight around 40 pounds. While this does make it somewhat hard to carry, most jump starters this powerful weigh that much.
Key specs
Peak Amps (12 V) : 3400
Peak Amps (24 V) : 1700
Cranking Amps : 850(12V)/425(24V)
Battery type : Lead Acid
Pros
Can jump start most 24V vehicles
Comes with two 46″ gauge cables
Durable and long-lasting
Cons
No screen or light to show battery status.
Heavy.
Kind of expensive.
The Schumacher DSR115 is another great jump starter for a 24V engine. It is the most powerful jump starter on the list, as it delivers 4,400 peak amps of power. This is enough to jump start both a 10 cylinder gas and 10 cylinder diesel engine.
What I really like about this jump starter is that it comes with additional power outlets. It has a usb port to charge electronics, as well as a 12 volt DC outlet. This will come in handy if you get stranded in the middle of nowhere and don't have another source of electricity.
The external battery also has a feature that stops charging once it reaches a full charge, which helps extend the battery's life. Additionally, there is a convenient screen that shows that battery left in the charger, as well as the voltage output.
There is also a cool built in safety feature which prevents the jump starter from exerting power if the cables are not plugged in correctly to the vehicle.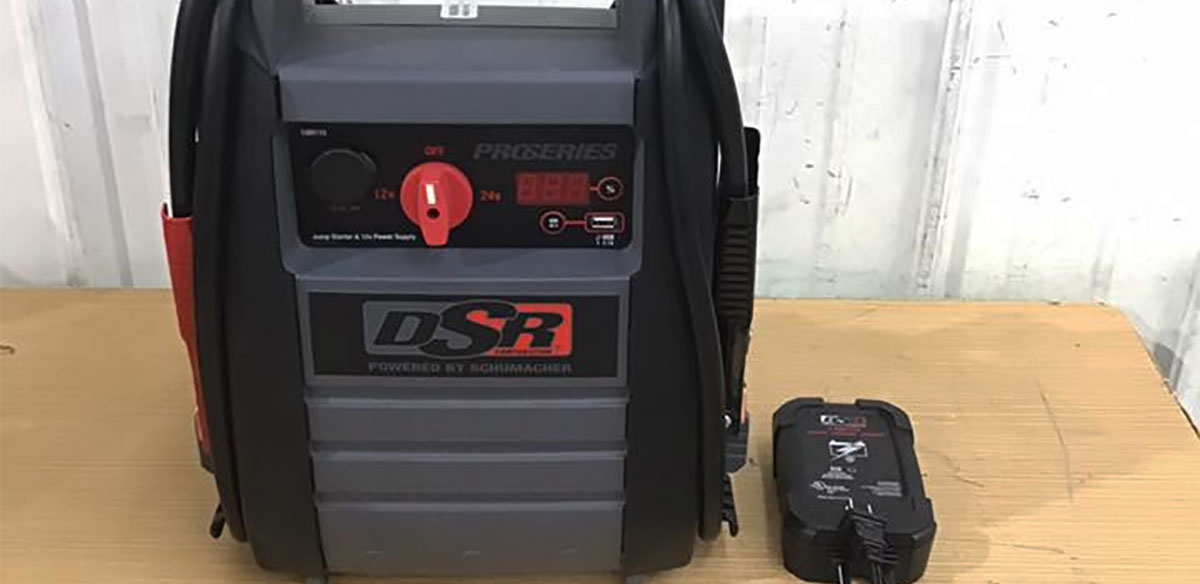 The Schumacher DSR115 12V/24V jump starter can power a diesel engine, truck, bus, boat, or anything with a 24V electric system. You'll never go wrong with this unit, and will be backed by a reliable and high-performance device that would start your vehicle even in extreme conditions.
Key specs
Peak Amps (12 V) : 4400
Cranking Amps : 750(12V)/475(24V)
Cold Cranking Amps (CCA) : 525(12V)/350(24V)
Battery type : Lead Acid
Pros
Simple switching between 12V and 24V modes
4400 peak ampse
Comes with usb port and 12V DC outlet
Cons
An external charger can be inconvenient.
Weighs 41 pounds.
The Truck PAC ES1224 is another great option for 24V vehicles. It can deliver 1,500 peak amps at 24V, which should be enough for most 24V vehicles. However, larger trucks and machinery might require more power.
The cables that come with the jump starter are 5 feet long, which definitely make it easier to use if you have a larger vehicle or machine. The battery can also hold a good charge, and you can perform multiple jump starts on one charge.
There is also a cool warning light that will turn on if you don't have the cables hooked up correctly, which is a nice safety feature. The jumper cables are also industrial grade and prevent any sparks from flying while you use them. Lastly, the durable case and high quality battery mean this jump starter should last you for years.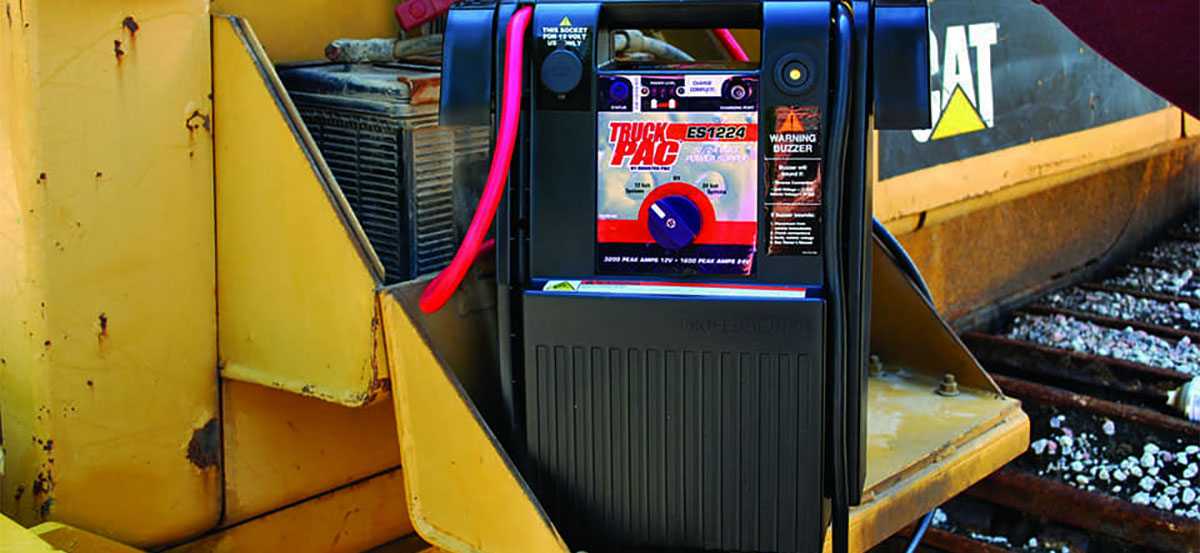 This Truck PAC 24 volt battery jump starter is a great solution if you are looking for the basic device to jump-start your 12V or 24V vehicle as it has optimal peak amps values and quality components.
Key specs
Peak Amps (12 V) : 3000
Peak Amps (24 V) : 1500
Cranking Amps : 750(12V)/370(24V)
Battery type : Lead Acid
Pros
Battery prevents overcharging
Comes with long, 5 foot jumper cables
Cons
Might not be able to jump start larger trucks.
Buying guide
Can a car battery be too dead to jump start?
There is no reason to think that you can't start a too-dead battery in most cases. Even when the battery is completely discharged and is not working, you can get help from a powerful jump starter and bring it back to life. But mind that the instant battery failure is a wake-up call for a serious problem, which can be mitigated if you take certain measures. Besides, it might result from the negligence of basic rules or improper maintenance, so check out what can lead to the dead battery. Finally, you should also mind that batteries have a limited lifespan. So, perhaps, the battery is not discharged, it's just time to replace it.
Can I charge a battery with a jump starter?
Briefly, no. A jump starter works in a different way. It doesn't charge the battery. It gives an instant boost of power which is enough to get the vehicle battery started. After this, the car's alternator becomes activated and starts charging the battery. Mind that you've got to wait for at least 5-10 minutes after you start the car to let the battery gain some power.
Is the more CCA the better?
CCA stands for cold cranking amps, and it defines how much power the jumper pack can deliver under low temperatures (below 0℉). More CCA means more power, which is especially beneficial for high-performance vehicles with 24V systems. It means that you will be able to start the car in conditions of low temperatures when the battery is completely dead. But there are cases when you might not need the jump starter with the highest CCA, so it's better to learn whether this feature is worth its money for you.