Every semi-truck driver knows how frustrating it is if the duties are hindered due to a drained battery, especially when you're on a tight schedule. Hence, you have to be well-equipped to avoid such situations. The right solution here is the best jump starter for semi-trucks! Without this one, you may find yourself stuck waiting for help from another driver or calling roadside assistance.
But what jump starter to choose? There are a huge amount of them on the market! Well, I've decided to take the hard work off your shoulders and reviewed several models based on their performance specs, durability, and buyer reviews. My goal is to help you make the right decision that you won't regret!
Best jump starter for a semi truck
The best jump starter for a semi turck is the Truc PAC ES1224. It is powerful enough to jump start any semi truck on the road, and best of all it is very compact so you can easily store it anywhere.
Do I need a special starter for semi-trucks?
Although an ordinary starter may do the job, you definitely need a specifically designed product for semi-trucks. A semi jump starter is heavy-duty, hence, can handle driving conditions better, and typically feature more voltage and amperage, which is essential for stranded trucks.
How to choose a jump starter for semi-trucks?
As you can guess, not all jump starters are created equal. If you need an effective battery booster for your semi, do consider the following factors to ensure that it will satisfy all of your requirements:
What size jump starter do I need for a semi-truck?
There are a few things to consider when deciding on what size your truck jump starter should be. And the most important one is its amperage.
Remember that while 400 amps is enough for a pickup truck, a semi-truck will take at least 1,500 to 2,000 amps. As it's said, the more, the better – so, I recommend 2,000 amps for semi-truck jump starters.
What voltage is needed to start a semi-truck
Semi-trucks consume a lot of energy, so you need to choose a jump starter with the right voltage.
If your semi has a 12V battery, then it requires a 12V booster. Respectively, a 24V battery needs a 24V jump starter. However, today's market offers super convenient options that support both voltages – 12 and 24. With such a versatile semi-truck battery jumper, you'll effortlessly bring a dead battery back to life and avoid a crisis on the road!
Lithium or lead-acid jump starter for semi?
Lithium-ion and lead-acid jump starters are the most popular types of battery boosters, and they serve the same purpose. But what's the difference between them? Let's take a look at their advantages and disadvantages!
Lithium-ion jump starter
Pros
Quickly re-charges
Compact, lightweight, portable
Environmentally friendly – no heavy metals
Cons
Must be protected when it's cold
Can't give power for a long time with insufficient voltage or voltage spikes
Lead-acid jump starter
Pros
Affordable
Recharges quickly
Long shelf life
Cons
Bulky
Doesn't hold a very long electric charge
Best Semi Truck Battery Jump Starters Reviews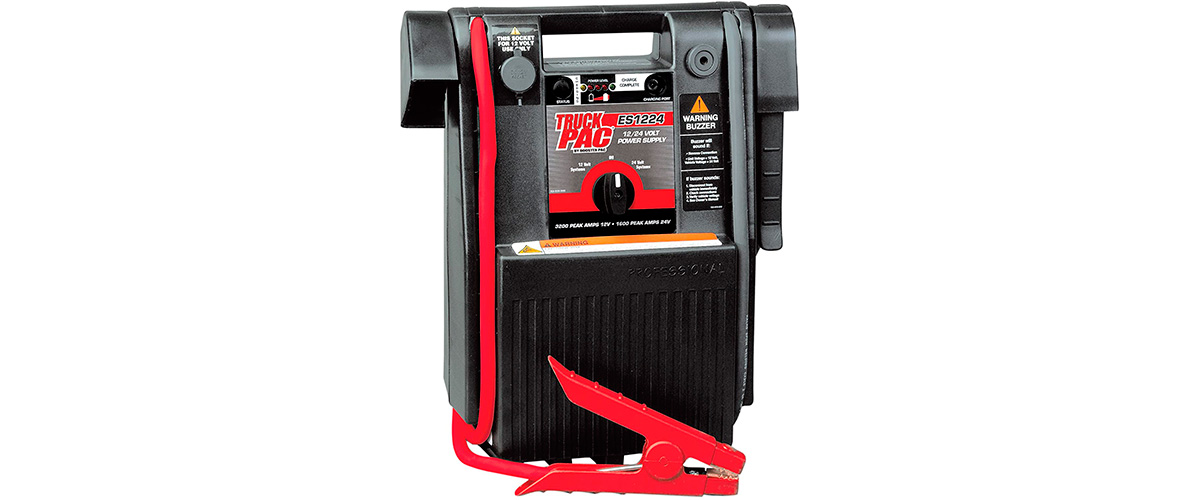 Truck PAC jump starters have earned a reputation for their incredible power and reliability. Although some rivals (e.g., Schumacher DSR115) offer higher peak amps and cranking amps, the Truck PAC models are totally unique! They use the ES Series batteries, which are specifically built to withstand long periods of professional use.
With the TruckPAC ES1224, you will rest assured knowing that you never get stranded! This unit features dual output – you can switch from 12-volt mode with 3000 Peak Amps to 24-volt mode with 1500 Peak Amps of starting power. As a result, it's perfect for hard-to-start vehicles, allowing you to work on multiple applications without the need for extra equipment.
Furthermore, Truck PAC ES1224 has a rough surface and robust elements to get the job done. It boasts a hardened aluminum casing, an integrated recessed LED flashlight, an easy-grip handle, and includes a rubberized carrying case for added protection in storage or transport.
Many users appreciate the starter's automatic charging feature that can be turned on and off. If you activate it, the unit will automatically recharge itself when plugged into a power source. This ensures your jump starter is always ready to perform at full capacity.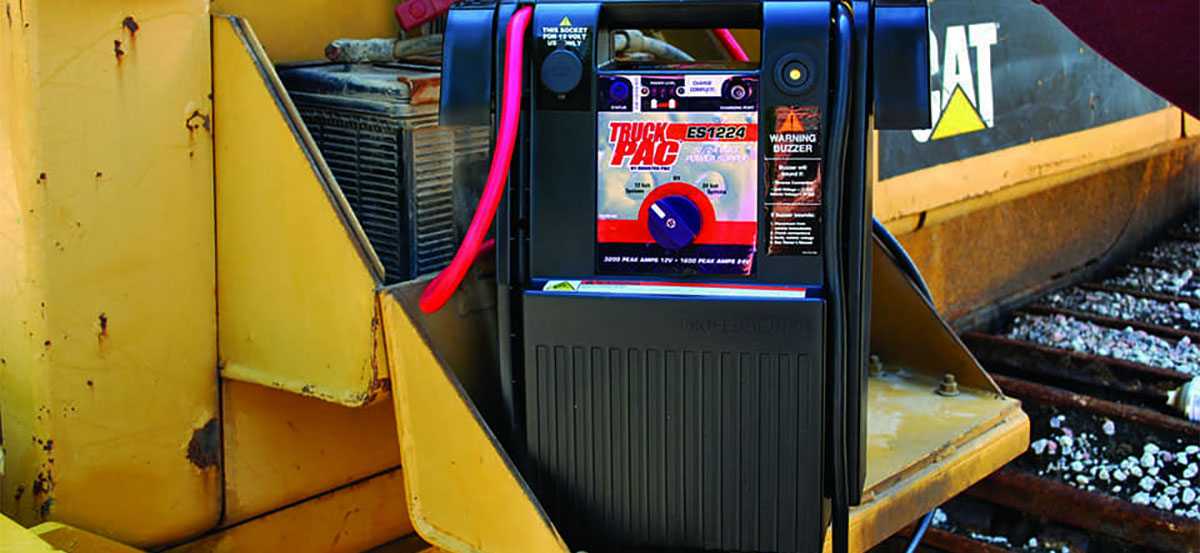 Next, powerful jaws safely and securely grip battery terminals. With a specialized design to handle tough angles and uneven surfaces, they'll keep the cables attached to jump-start the auto every time you need it.
Truck PAC ES1224 is the overall best semi-truck battery jump starter for heavy-duty starting even in extreme service situations. It's perfect for any professional trucker working long hours out on the road.
Key specs
Peak Amps (12 V) : 3000
Peak Amps (24 V): 1500
Cranking Amps: 750(12V)/370(24V)
Battery Type: Lead Acid
Gas Engine Rating, l: 8
Diesel Engine Rating, l: 6
Pros
Features twin high-performance ES Series batteries
Strong and versatile
Has 60'' cables with robust clamps
Conforms to UL standards
Schumacher DSR115 – most powerful jump starter for trucks
Schumacher has been a leading manufacturer of automotive batteries, chargers, and jump starters with over 40 years in the business. It supplies high-quality products, and DSR115 is no exception! This is a super-powerful unit with 4400 peak amps, making it an ideal jump starter for diesel semi-trucks. Learn more in my article on the best jump starter for diesel engines.
Schumacher's patented Ignition Interlock System prevents the vehicle from cranking without a properly connected battery cable. The 12V/24V output includes 750 CCA battery capacity on 12 volts and 475 CCA battery capacity on 24 volts, enough to start all smaller vehicles as well as boats, lawnmowers, etc.
A powerful 12V DC outlet and USB port provide sufficient power to run or charge various devices such as mobile phones and tablets. In addition, the included digital display shows you how much juice is left in the jump starter's internal batteries, so you'll always know when it's time to recharge.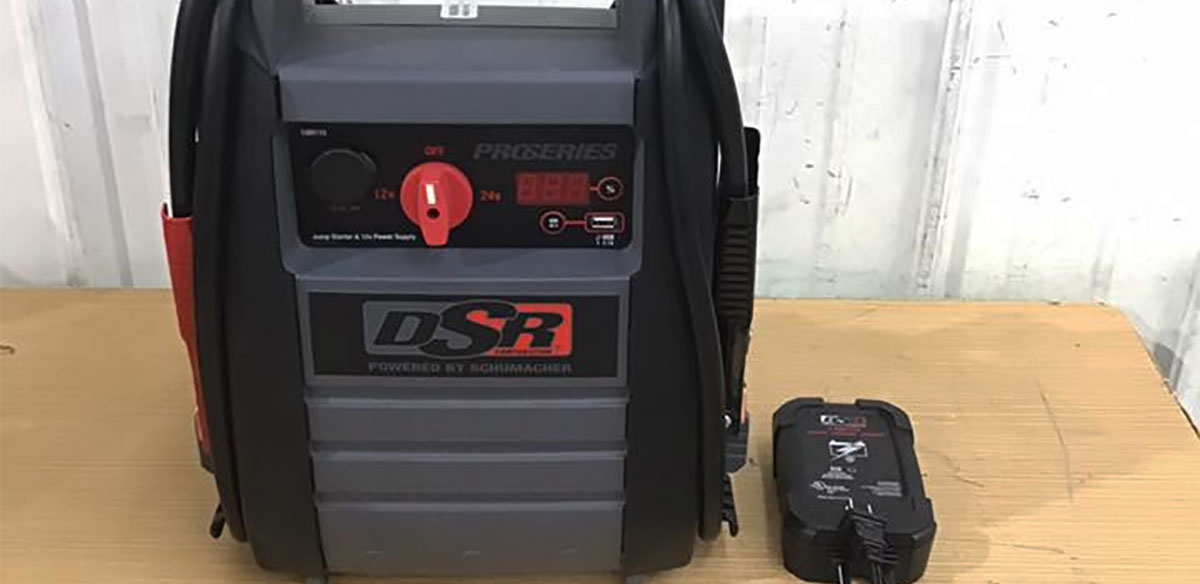 An ever-present safety feature is the reverse polarity warning that helps you avoid accidentally connecting your cables in a manner that would damage batteries and lead to injury or property damage. Next, the ON/OFF knob allows for complete control over power usage. Finally, several accessories such as jumper cable clamps, remote switches and chargers are included to provide you with even more ways to get your vehicle up and running.
Schumacher DSR115 successfully competes with our top-list model Truck PAC ES1224. Although the latter is a premium-quality unit, the former features maximum power. So, if you are looking for the most powerful, heavy-duty jump starter for a semi-truck, the Schumacher DSR115 may be the right choice for you.
Key specs
Peak Amps (12 V) : 4400
Peak Amps (24 V): 2000
Cranking Amps: 750 (12V) / 475 (24V)
Battery Type: Lead Acid
Gas Engine Rating, l: 7.5
Diesel Engine Rating, l: 6
Pros
High-output batteries
Works with gas and diesel engines
Comes with many features: an automatic charger, USB port, 12 volt DC power adapter
Meets all industry standards
The NOCO brand was founded in 1914 and is known for producing high-quality batteries, chargers, boosters, and other accessories.
The GB40 is an excellent product of this brand. This lithium-ion portable jump starter for semi-trucks is one of the safest and reliable boosters on the market. It's compact and powerful, with a robust 3,000 amp battery that delivers 40 starting power cycles per charge! The unit is compatible with gasoline and diesel engines up to 10 liters.
This jump starter has never been outclassed by any competitor because of its ultra-safe design with spark-proof technology and reverse polarity protection, ensuring it will safely connect to any battery. The robust, water-, rust-, and dust-proof enclosure of the NOCO GB150 protects it from all climates, so you never have to worry about damaging your device. It's rated at IP65 for waterproofing against harmful debris.
GB150 can also boast an ultra-bright 500 lumen LED flashlight with seven light modes, including SOS and emergency strobe. This means you'll have an opportunity to work on your truck at night – even in the rain or snow – without worrying about being able to see what you're doing.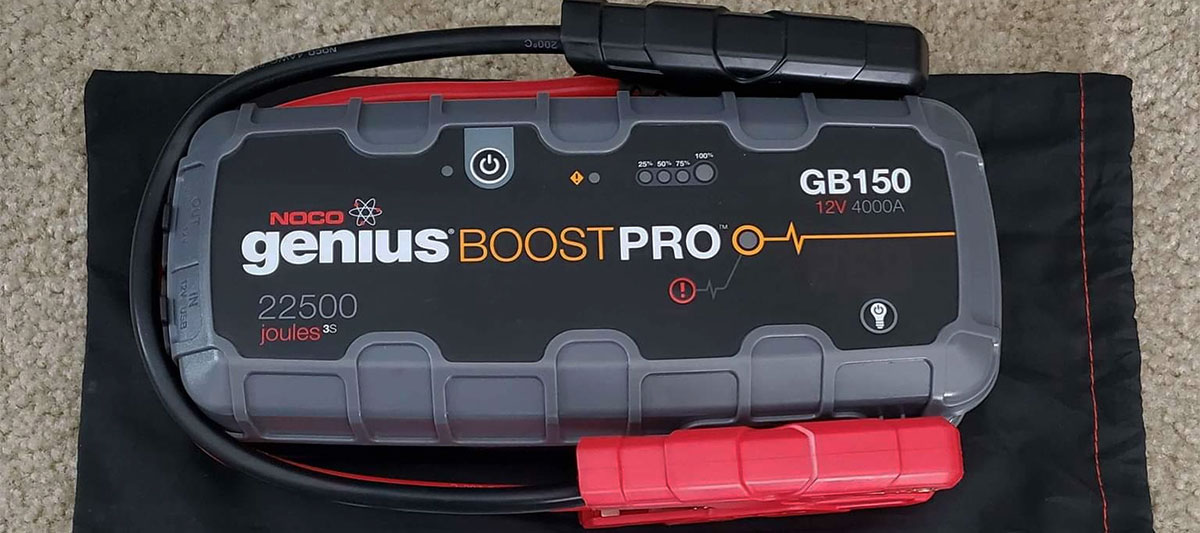 Thanks to the 12-volt/15-amp port, you can power or recharge your gadgets on the go – this jump starter provides up to six smartphone recharges.
NOCO GB150 will be the right pick for you if you need a high-quality lithium jump starter for semi-trucks. While compact and lightweight, it's designed to stand up against everyday use in even the most demanding jump-start environments.
Key specs
Peak Amps (12 V) : 3000
Battery Type: Lithium
Cranking Amps: 625(12V)
Gas Engine Rating, l: 9
Diesel Engine Rating, l: 7
Pros
Powerful and multi-functional
Ergonomic and compact design
Water- and dust-proof – IP65-rated
Safe and user-friendly
FAQs
Сan you jumpstart a semi with a car?
Yes, you can jump-start a semi-truck with a car if both vehicles have 12-volt batteries compatible for this task. You will connect both vehicles using jumper cables and also connect the truck's positive jumper cable to the car battery.
Do not attach or touch any part of either vehicle except for the clamps and cables used in this process, as it can cause a spark and lead to an explosion. Turn off both cars before connecting them, so you do not accidentally send electricity through the other person's body.
Can my truck jump starter work in my car?
It depends on the type of the jump starter. If your semi-truck 24-volt battery booster has a selector knob that can switch the voltage from 24V to 12V, then you can safely use it to start up your car. Otherwise, a 24-volt booster will fry your automobile's electronics and wiring.
Are more cold-cranking amps better for my semi-trucks?
A jump starter with more cold-cranking amps is more effective for semi-trucks. A truck driver needs at least 300 cc's of amperes to start off the engine completely in extreme conditions. However, higher CCA means a higher price. So, do not overdo it! Use a typical CCA rate as a starting point and increase it a bit.
How to jumpstart a semi-truck
To jumpstart your semi, take the following steps:
First, find a set of jumper cables. There are two sets at the back end of your semi-truck, one for each battery bank. Ensure that they're not covered with snow or mud and remove them from their storage area if necessary. The terminals should be clearly marked as "+" (positive) and "-" (negative).
Take the cables, attach one to each of your two batteries. Ensure that you connect them in the proper order: red clip-on positive terminal for battery A and black clip-on negative terminal for battery B. This is typically indicated by color-coding or a "+" sign at one end of the cable.
Once connected, start your truck and let it idle for up to 20 minutes to make sure the battery is fully charged.
Instructions may vary slightly depending on make/model, so do read your manual!