There's nothing worse than being out on the water with no power and realizing your battery is dead. That's why it's crucial to have the best boat jump starter!
However, there are many different types and models on the market today, so it's important to choose wisely. What features and specs to consider? What model is suitable for you? Here, I'm answering these questions and going over only high-quality boat jump starters.
Boat Jump Starter
Peak Amps 12V
Water Resistance
Battery Type
NOCO GB40

best overall

1000
IP65
Lithium
Vekkia

cheapest

600
IP66
Lithium
HULKMAN Alpha85

with inverter

2000
IP65
Lithium
Best Portable Jump Starters for Boat Reviews
The best boat jump starter is the NOCO GB40. It is extremely powerful and can jump start most recreational boats on the water. You also don't need to charge it too often, as one full charge can usually start up a boat more than 15 times.
The NOCO brand was established in 1914; it's famous for engineering premium-class jump starters, batteries, battery chargers, and various accessories. The gb40 is a worthy product of this brand.
This model can boast a patented safety technology with reverse polarity protection and spark-proof connections. So, it can safely hook up to any battery. It is designed for a car, boat, RV, truck and more with gas engines up to 6 liters, and diesel engines up to 3 liters.
Furthermore, the GB40 jump starter doubles as a power source for USB gadgets, so you can easily charge your devices on the go. Manufacturers claim that this product can charge up to 4 different devices at once! It also has an ultra-bright 100 lumen LED flashlight with 7 light modes, including SOS and emergency strobe for forgetful people like me!
Finally, I love the GB40's versatility: you can use it for boats, cars, trucks, lawnmowers, and more. It is designed for gas engines up to 6 liters and diesel engines up to 3 liters.
NOCO GB40 is the overall best portable jump starter for boats! It's reliable, robust, safe, and includes all convenient extras you may need on board.
Key specs
Peak Amps (12 V) : 1000
Water resistance: IP65
Battery Type: Lithium
Pros
Compact yet powerful
Versatile
Safe and user-friendly
Has super bright flashlight
Cons
Some users complain about low storage capacity for powering other devices.
Vekkia – cheapest jump starter for a boat (only $50)
If you are tired of lugging around your entire jumper cables, this Vekkia jump starter may be the right solution for you, especially if you are always on the go. The device's lightweight and compact design allows you to keep it even in the pocket.
This jump starter is waterproof and features IP66 protection, making it stand out against competitors. So, you can use it worry-free in any weather conditions and when you're on a boat.
Vekkia jump pack comes with an intelligent safety system that includes factory settings for overvoltage, short circuit prevention/suppression, and overheating protection. It can be safely and easily connected to the boat or car battery.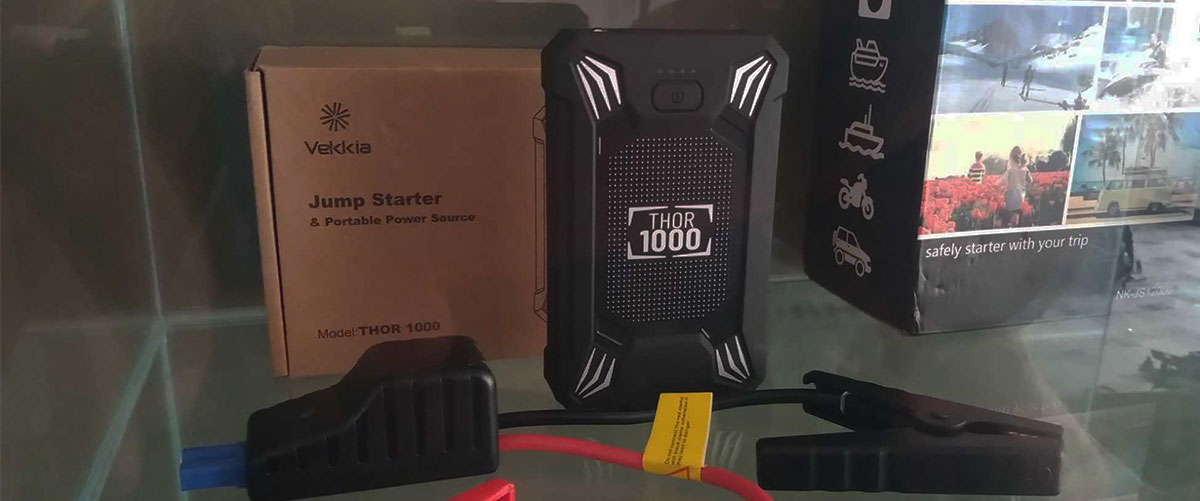 With just one purchase of this jump starter pack, you'll have access to the 8600mAh power bank. It's so convenient to have such a unit when you need to charge your gadgets on the go! Moreover, this battery booster can also be used as a flashlight, it has 3 modes – steady on, fast flashing, and SOS.
If you're looking for a budget-friendly yet powerful jump starter for boats, do take a look at Vekkia. Besides, while most battery boosters are bulky, this unit is compact enough to take with you anywhere!
Key specs
Peak Amps (12 V) : 600
Water resistance: IP66
Battery Type: Lithium
Pros
Small and light design
Waterproof
Intelligent protection system
Bright LED flashlight.
Cons
No carrying bag – be careful not to lose the pieces.
Another cheap option is the Halo bolt ultimate jump starter.
HULKMAN Alpha85– Most powerful boat jump starter
Boat battery issues are extremely frustrating because they can leave you stranded by the water. However, with the HULKMAN Alpha85 jump starter boat battery problems no longer need to be a problem!
This jump starter is quite compact, but still very powerful. It's possible to start all types of 12V vehicles up to 6L Diesel or 8.5L Gas. HULKMAN Alpha85 delivers 2000 amps and can provide 60 jump starts on a single charge. It's much more than even top rivals like NOCO or Vekkia can offer!
The unit features an efficient safety system, eliminating your worries for sparks or incorrect operations. It automatically identifies battery connections and gets ready for the boost.
You can easily charge various gadgets when on board thanks to USB-A, USB-C and 12V DC ports. Power everything you need with this battery pack!
Finally, Alpha85 has a built-in flashlight with 3 modes (high power, strobe and SOS), plus the unit comes with jumper cables so you can charge other people's vehicles if necessary.
HULKMAN Alpha85 looks like a marine battery jump starter that would cost several times more than it actually costs! It's reliable, powerful and compact. What not to love?
Key specs
Peak Amps (12 V) : 2000
Water resistance: IP65
Battery Type: Lithium
Pros
Impressive battery capacity
Fast and powerful
Charges fully in a bit more than an hour
400 Lumen LED light.
Cons
The surface is slippery, especially if hands are wet.
What to look for when choosing a boat battery jump starter?
As you understand, not all battery jump starters for boats are the same. It's essential to consider the following factors when shopping around to make sure that a particular model will meet all your needs:
Type of boat jump starter
The two most popular types of boat jump starters depend on their chemistry: lead-acid and lithium-ion models.
Although lead-acid battery boosters are more affordable, lithium-ion ones offer far more advantages. They are multi-functional, lightweight, and portable. In addition, lithium jump starters for boats recharge within minutes, without overcharging. And last but not least, they are more eco-friendly – they don't contain any heavy metals or toxic chemicals, which can damage a marine environment if leaked.
Considering all these benefits and positive feedback from users, I've picked only lithium-ion jump starters for this review.
Power of jump starters for boat
The jump starter's power is shown in either CCA (cold cranking amps) or PA (peak amps). CCA indicates how the battery will operate when it's cold. You measure this by setting a new, completely charged power source into a cold environment (0 degrees F) and then measuring how many amps it loses in 30 seconds. The higher the number, the more powerful the battery booster.
However, you should also consider the size of the engine, e.g., full-size motors need not less than 450 CCA. The boat age also matters – the older your boat, the more amps are required to jump-start it.
USB ports and charging outlets
It's extremely convenient when a jump starter has USB ports and charging outlets – they are handy in case of emergencies.
USB ports are usually used to charge your gadgets' batteries while charging outlets are suitable for powering up any devices that need a regular power source.
Some top-rated lithium-ion boosters have special ports like 19V for laptops or 12V for accessories like torches, fans, or heated blankets.
Having extra ports and outlets in your battery booster will make your life easier and give you more freedom to use electronics on board. Just make sure to read product reviews and customers' feedback to understand how well these features work.
Safety features
Batteries, as well as jump starters, contain electricity, hence, they can be dangerous if not handled correctly. The risk of fire, trauma, and damage to the electronics is always present. So, make sure your jump starter has the following safety features:
Reverse polarity protection
Protection against short circuits
Overcurrent protection
Protection against overloads
Protection against overvoltage
Protection against overcharging.
Most marine battery jump starters include the listed above safety features. However, do check them before making a purchase!
Durability and waterproof
Durability and water resistance are the following important features to consider when choosing a boat jump starter.
Overall build quality, wide-opening and robust clamps, easy-to-handle cables are all crucial features that will significantly prolong the battery booster's life.
Unfortunately, a boat jump starter can't be fully waterproof; however, its cable connection port must be covered. For maximum protection, look for covers that tightly seal all ports. Plus, check to see whether the boat jump starter has an IP54 protection rating against water damage.
FAQs
Can you recharge a boat battery with a jump starter?
A boat battery cannot be charged using a jump starter. The purpose of the battery booster is to provide an immediate powerful current flow enough to start the battery, following which the vehicle's alternator will charge the battery.
Can a boat battery be too dead to jump-start?
A battery that is too drained to be jump-started is practically impossible to find.
It contains specific chemical elements, so it can't just stop working without warning. There are no chemical reactions that could be stopped immediately. On the other hand, consistent battery failure is a sign of a greater problem. So, if you need to use a boat battery jump starter every time you start up your vessel, seek professional assistance.