Due to their power, V8 engines require stronger jump starters to power up their battery. Today's article will cover the best high power jump starters for V8 engines.
How many amps do you need to jump start a V8 engine?
In order to jump start a gas car with a V8 engine, your portable jump starter should be able to deliver at least 600 peak amps. However, to be on the safe side, I recommend getting a jump starter that can deliver at least 800 amps.
Best Jump Starter for V8 Engines
The best jump starter for V8 engines is the NOCO GB70. Another good cheap option is the Schumacher SJ1332.
Jump Starters for V8 Engine Reviews
Lithium jump starters
The NOCO GB70 is the best jump starter for v8 due to its strong power and additional accessories. It peaks at 2000 amps, and can provide over 30 jump starters on a single charge.
It also has great accessories, especially if your car battery dies in the middle of nowhere. This jump starter has a USB port to charge your smartphone, as well as a 12 volt, 15 amp cigarette lighter outlet. This allows you to power up air compressors, inverters, and other power sources. It also has a built in LED flashlight that is very handy if your car dies at night.
There are also some built in safety features including spark proof wires and reverse protection in case you plug the clamps into the wrong part of the battery.
If you're looking for the overall best portable jump starters for V8, you can end your search here! It delivers everything you may need – superb power, durability, and versatility!
Key specs
Peak Amps (12 V) : 2200
Battery Type: Lithium
Gas Engine Rating, l: 8
Diesel Engine Rating, l:6
Pros
Starts a dead car battery in seconds
Safe – no wrong connections or sparks
Great power accessories
User-friendly
Cons
Might not be strong enough to power a V8 diesel engine.
The only shortcoming of the previous V8 jump starter is that it only provides 2000 amps of power. While this is enough to revive a V8 engine, you might feel safer with the NOCO GB150. This jump starter provides 3000 amps of power. This is enough power to jump start 9 liter gasoline engines and 7 liter diesel engines.
Despite providing more power, it is still a very compact and portable device. This device has all of the same safety features and power accessories as the GB70.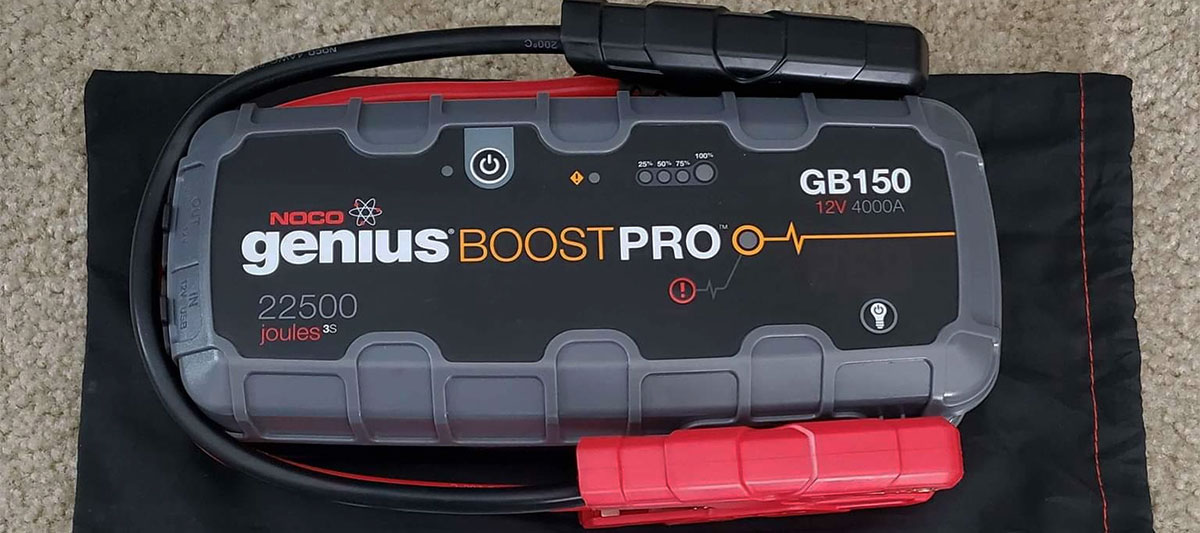 NOCO GB150 is the most powerful jump starter in its class, and one of the best jump starters for diesel. I'm extremely impressed by how this unit starts cold V8 engines – it works like a new battery! Love it!
Key specs
Peak Amps (12 V) : 3000
Battery Type: Lithium
Gas Engine Rating, l: 9
Diesel Engine Rating, l: 7
Pros
Versatile – can charge various devices
Emits 3000 amps
Very compact and light
Cons
Doesn't include a wall charger.
Expensive.
Lead-acid jump starters
This jump starter is perfect for a v8 engine if you are on a budget. At the time of this writing, you can get it on amazon for only $90, which is more than half the cost of the other jump starters.
Despite it's cheap price, it still delivers 800 peak amps which is enough to power up a v8 gasoline engine. It has a USB port that you can use to charge your electronics, as well as a built in flash light that is great if you get stranded out in the dark.
It also has a safety feature that only delivers power through the cables if the cables are connected properly to the car battery.
Key specs
Peak Amps (12 V) : 800
Battery Type: Lead Acid
Gas Engine Rating, l: 8
Diesel Engine Rating, l: 6
Pros
Very affordable
USB charger and flashlight included
Cons
Can't power up a v8 diesel engine
Types of jump starters for V8 engines
A jump starter provides a boost of power in order to start a car's engine when the battery is dead. There are two main types of jump starters: lead-acid and lithium-ion.
Lithium-ion jump starter
A lithium-ion jump starter contains lithium-ion battery cells charged by converting power from an external power source or plugging into a wall socket. This type takes the dead battery and turns it back to life in minutes, if not seconds.
A lithium jump starter for V8 engines will never leave you stranded whenever your car dies on the side of the road.
Pros
Recharges quickly
Lightweight and small
Contains no heavy metals, making it eco-friendly.
Cons
Needs to be protected in cold weather
Can't provide power in insufficient voltage or in spikes in voltage for a long time.
Lead-acid jump starter
As the name implies, a lead-acid jump starter is powered by a lead-acid battery. Invented in 1859, this type of battery was the first rechargeable power source. They store and deliver electrical energy using lead plates and a sulfuric acid-based liquid. This technology is adopted in jump starter products as well.
Pros
Fast re-charging
Have a longer lifespan
Affordable.
Cons
Heavy
Don't hold an electric charge for very long.
FAQs
What's the lifetime of a car jump starter?
According to users' reviews and manufacturers' claims, the average lifespan of the jump starter is 4 to 7 years. However, with bad care and conditions, the battery will survive for about 3-4 years.
It means you should use it carefully: do not overuse your jump starter and keep it according to the owner's manual. For instance, higher acidity of the environment considerably reduces the operational time. Besides, if you want to prolong the jump starter's life, maintain proper storage temperature and avoid high humidity. As you understand, it's far easier to follow the rules than to risk losing a year or two of the car jumper's life.
Can I use my jump starter to charge a drained battery?
The quick answer is no – your jump starter won't charge your vehicle's dead battery. This gear is engineered to provide a power source with a quick boost, making the car engine start. Besides, some jump starters contain a battery that releases the current stored in it when fully charged. Hence, the car's battery can explode if the jump starter's own battery is not a perfect match.
If you need to charge your power source on the move, you may appreciate a specifically designed battery charger. It can re-charge the battery over many hours.
Can a car battery be too dead to jump start?
It's almost impossible for a battery to be too dead to be jump-started.
It is, first and foremost, a chemical element, so it can't just quit operating without any signs. There isn't a chemical reaction that can be interrupted right away in these conditions. However, regular battery failure is a symptom of a larger issue. Therefore, if you need to use a jump starter every time you start up your car, do consult a professional.