If you wanna buy the best lithium jump starter, you are on the right website. Here I'm telling about my experience of using different models of this device for charging various vehicles' engines. Before I dive into the details, let me tell you what exactly a jump starter is.

Low temperatures, fewer daylight hours, permanently on headlights, the use of additional heating systems – all this leads to an accelerated discharge of the battery. And it's good if there is a car service nearby with a professional jump starter, but what if not? In such a case, a high-quality jump starter can become your lifesaver. The device is used for jump starting various types of vehicles when their engines run out of charge. Below, I'm sharing the most interesting and useful information about this type of unit. You will not find it in any other lithium ion jump starter reviews.
Best Lithium Ion Jump Starter
The best lithium ion jump starter is the NOCO Boost GB70. It provides a powerful 2000 amp punch which can power up a dead car battery in seconds.
Lithium Jump Starters Comparison Table
Lithium jump starter
Peak Amps 12 V
For gasoline engines
For diesel engines
Review
NOCO GB70

best overall

2000
up to 8l
up to 6l
Review
TACKLIFE T8

best budget

800
up to 7l
up to 5.5l
Review
NOCO GB150

most powerful

3000
up to 9l
up to 7l
Review
Best Lithium Ion Jump Starter Reviews
To begin with, I will tell you about the powerful ultra-safe portable starter which provides a current of 2000 amperes. In fact, this is the best lithium jump starter. The standalone starter-charger NOCO GB70 is a powerful, innovative device with a built-in lithium-ion battery. It is characterized by increased safety and is protected from the formation of sparks and incorrect polarity.
The device is designed for gasoline engines up to 8 liters and diesel engines up to 6 liters installed on cars, boats, lawn mowers, and other vehicles. For as long as the NOCO is fully charged, you can use it for 20-40 jump starts. It is also designed for recharging mobile devices and some other equipment that may be in the car while traveling. The appliance is often used for devices working from 12-volt voltage – it can be compressors, inverters, and some other equipment. The charging time for them is going to be no more than 3 hours.
You can control the NOCO device using a simple and clear interface, which displays all the information about charging. For optimal operation, there is an LED flashlight. It differs in brightness and power and has seven modes of operation, including alarm and SOS.
This starter-charger is relatively light, which means you will not have any issues carrying it around. Plus, it is extremely easy to use. This makes it easy to transport. I can assure you that NOCO GB70 will not take up much space in the bag or in the trunk of your car. The unit is capable of withstanding heavy usage as well as rough handling.
Pros
It comes with a lithium technology that helps to keep the environment more sustainable
The design is both portable and compact
A USB to micro-USB charging cable for charging the unit from a standard 2.1A USB outlet
Its light system comes with a 400-lumen bulb, guaranteeing you of enhanced brightness
Cons
You cannot charge anything without a USB cable
Isn't durable
TACKLIFE T8 – best budget
The next item in my review is the device with a decent peak current of about 800 amperes. It is the best lithium ion jump starter that can be bought for a little money. The great power of the unit makes TACKLIFE T8 suitable for jump starting most kinds of vehicles. I would also like to emphasize its battery capacity of 18,000 mAh. Thanks to this feature, the device can function as a reliable power bank that you can use for charging your smartphone or tablet.
The main thing you need to know about the T8 is that this is much more than just a car battery booster. The device comes with dual USB ports, red light hazarding signal, and even a compass. Have you ever seen anything like that?
When it comes to the performance of the model, you will get it with a battery, which takes about 4.5 hours to get powered up. It is a fantastic result compared to many other jump starter models. Once the battery is charged, it will be able to do up to 30 jumps before it needs power again. The cables that come with the appliance are smart because they have surge protection, which helps prevent sparking. By the way, you also will have a LED light for an emergency flashlight.
Speaking of the battery charger, it is not smart. Nevertheless, it is equipped with an indicator that informs you of the wrong use.
Let's discuss the design of the device. The first thing you will notice is that TACKLIFE T8 is pretty compact and light — you can carry it with only one hand. The lithium battery booster has a decent-looking black casing that can include either red, orange, green, or yellow elements.
Pros
Can be manually turned off
LCD screen shows remaining battery life
The metal clamps are made to last long and are ergonomically designed to be maximum easy to open
Cons
The quality of the carry case could be better
The instruction does not mention that the small black sliding power switch must be in the on position, not only to use the appliance but to recharge it
NOCO GB150 – most powerful
Next, let's take a look at the most powerful lithium jump starter. This model is a 4,000-amp heavy-duty lithium-ion starter with a patented safety technology that includes anti-sparking and reverse polarity protection. The device is intended to be used for starting petrol and diesel engines from 10 liters. Moreover, the considered jump starter can also be used as a portable power source for 12V devices such as bus pumps, inverters, etc. On top of that, the GB150 is capable of charging mobile phones and tablets.
There are some other things you are going to get with this model. I'm talking about the super bright 500 lumens LED torch with seven light modes, including SOS and alarm. The super powerful light is helpful for seeing the engine at night, warning oncoming traffic, and changing a tire at night. It is definitely worth noting that I tested this model under practically all weather conditions and on both diesel and gasoline engines.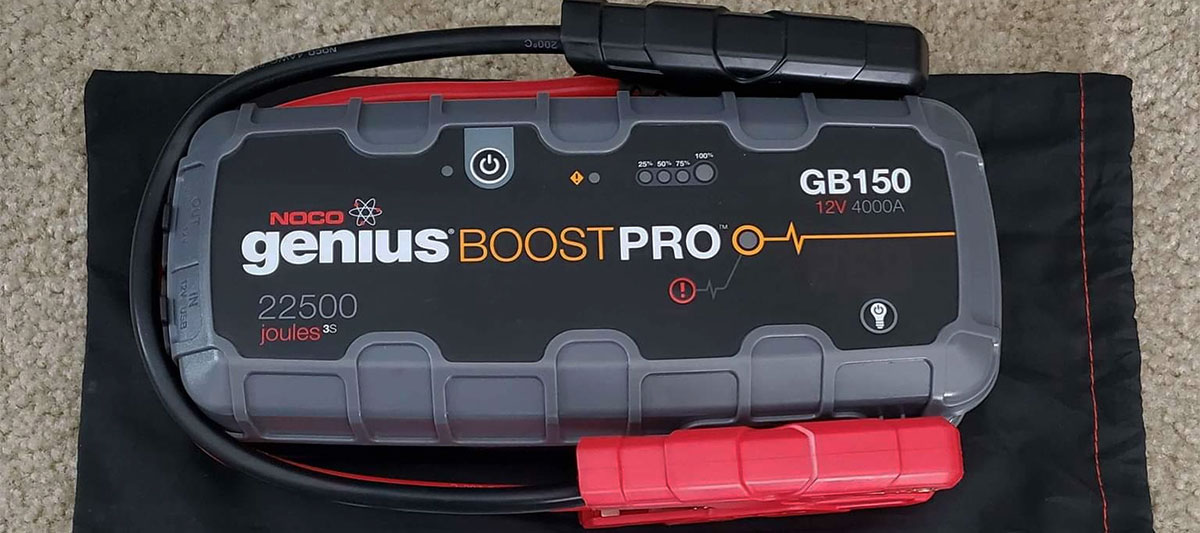 The unit worked perfectly every time I used it. The point is, the unit features high-discharge lithium technology, which makes it possible to use the model in any climate with a water-resistant enclosure.
The 12V car battery jumper comes with smart technologies that detect any incorrect connections and warn you about them through the indicators. The truly great thing about NOCO GB150 is that I easily recharge it using any powered USB device at 2.1 amps in as little as 6 hours.
Pros
It has a very lightweight and compact design weighing 7.5 pounds, which makes it super portable
Equipped with flexible and well-built cables which do a great job preventing melting or overheating
Just from one charge, it can jumpstart up to 80 cars as long as they are using 12-volt lead-acid batteries
Cons
It gets heated up quickly when used many times in a row
You have to spend quite a lot of time charging it to the full
BEATIT G18
The model is designed for use in trucks and cars, snowmobiles, boats, and other vehicles where diesel or gasoline engines up to 8 liters are installed. The device has a 21000 mAh battery and a compact design.
This device is equipped with a lithium rechargeable battery 21000 mA/h, which is capable of providing up to 30 launches on a single charge. The starting current is 1000 A, while the peak current is 2000 A. The total life cycle of the unit is 3000 full charges.
Smart terminals are additionally protected against short circuits, voltage surges, and reverse polarity. BEATIT G18 is provided with such multi-level protection that the user can safely touch the terminals and connect them to the battery contacts with the wrong polarity. This jumper with a large battery capacity can be used to recharge all kinds of electronics: smartphones, tablets, MP3 players, GPS devices, cameras, wireless headphones, etc.
The charging speed provided by the BEATIT G18 is two to three times faster than most portable Power Bank devices. Typical charging time is 2-3 hours – impressive, isn't it?
The unit is equipped with a bright and powerful diode flashlight with three modes. The light output from the LED flashlight is enough to change a wheel on the road at night, inspect the engine, and let other drivers know about a breakdown in your car. In the event of an emergency traffic situation, you can turn on the SOS function on the flashlight.
Pros
Can operate without any problems in a temperature range from -40 to +80 ْ С/ 230 to 350 K
Due to its compactness, it can be stored and transported in the glove compartment
The lightness of the device (635 g) allows you to carry it with you as needed
Features the wireless charging function for Qi-compatible devices
Cons
The compass may not be that accurate
Lacks 19V output
Carrying case could be larger to fit cables and other stuff
NOCO GB40
The standalone NOCO Genius GB40 jump starter is used for maximum quick and efficient starting of petrol or diesel engines that have a capacity of up to 6 and 3 liters, respectively. If you are wondering what makes this unit special, it is great safety and high productivity. Plus, the starter comes with big indicators of current strength. With NOCO GB40, you can be sure that your car engine will be able to run smoothly even with a discharged battery.
The manufacturers made the unit only 6.6 inches in length and 3.2 inches in width. The height of it is only 1.7 inches. This means you can keep it in your toolbox, glove compartment, or trunk. NOCO GB40 can also be used as a power bank or external battery for various gadgets (smartphones, tablets, wrist watches, etc.).
The unit comes with an incredibly powerful LED flashlight with seven different modes. The manufacturer does care about the safety of users of the jump starter. Thus, there were added safety precautions such as a built-in spark-proof system and reverse polarity protection. There is no chance that some of your actions will harm the charger or the engine of the vehicle.
Pros
Made maximum compact on purpose (80% smaller than most lithium jump starters)
With just a single charge, it can help jump start up to 20 vehicles with 12V lead-acid batteries)
Equipped with extremely flexible cables which are produced from durable materials to prevent melting and overheating
Cons
It has only 5V port and capacity of 6400 mAh, which means you can't use it to charge laptops or any other unit that uses some other output port
TOPVISION 2200A
You are going to be amazed by this compact car power pack, which can jump start 12V vehicles (up to 7.0L gas or 6.5L diesel engine) in seconds with 2200A peak current. The unit can be used not only for cars but also for trucks, motorcycles, boats, and many other vehicles. The super powerful lithium battery booster can do up to 50 jump starts on a single charge.
As for me, this device is a real lifesaver. Why? The point is, besides the jump starting function, it has lots of other ones. For example, the model comes with Ultra-Bright LED light that works in 3 different light modes: Flashlight, Strobe light, and SOS light. You may not realize the importance of it until you get stuck in the middle of nowhere. The mentioned feature is going to be incredibly useful in case of emergency and outdoor adventures.
One more reason to get this jump starter is its complete safety. The device is equipped with high-quality and spray gold clamps with a built-in protection circuit. In this way, the starter provides all types of protection: short circuit protection, overcharge protection, over-current protection, etc.
Pros
It has a voltage display right on the cable, which means you don't have to plug the cord into the charger to see the strength of your battery
Build quality seems good
Can be used as a charger for mobile devices such as tablets, smartphones, etc.
Cons
Average performance with diesel engines
It does not work properly on RV trailers
GOOLOO 1500A
Let me show you this wonderful unit with a great storage capacity that will jump start any vehicle even in the winter seasons. With such a unit, you will always be able to see the total left charge thanks to the LED indicators. The model has a large battery, which means that you will have enough power to charge any vehicles such as cars, trucks, motorcycles, snowmobiles, and so on. The LCD screen of GOOLOO 1500A will tell you the status of the battery and you will know when to charge it.
Just imagine, the device can keep a charge for six months. Nevertheless, consider that it is recommended to give it a charge once a month. By the way, it takes only 5 hours to get a full charge. When it comes to design, GOOLOO 1500A has a sleek, compact plastic casing.
The unit is equipped with one quick charge USB 3.0 for charging such mobile devices as cameras, phones, GPS devices, etc. The upgrade clamp is bigger 1/2 and more durable than previous models produced by the brand.
Pros
It comes with a Type-C in and out port of 15 Watt and two USB ports
Features over-current protection, overcharge protection, overload protection, etc.
Ports are covered with soft plastic and clearly marked by function
The compact size makes the device easy to carry around
Cons
The display gets scuffed easily, which makes it more difficult to read the info on it in the daylight
Does not have overheating protection
Buyers Guide
Benefits of using lithium jump starter
Don't know what type of jump starter you need? In this section of my review, I am going to tell you about the main advantages of using a lithium unit. First of all, it is compact. Such a device will take minimum space in your car. The next benefit of lithium models is the high level of safety. As you might have noticed, each device in my review has state-of-the-art microprocessors, which provide different protection features.
Another benefit is that the position of your car is absolutely irrelevant if you have a lithium ion jump starter with you. In other situations, you would need to park your car in front of the other vehicle to prevent the cables from tangling. One more reason to give preference to this kind of jump starter is the great amount of power you get from a single charge. Many drivers did not even think about buying a starter until they learned about the additional capabilities of such units. I'm talking about the possibility of using a jump starter for charging mobile phones, tablets, cameras, etc. You can even use your starter as a temporary charger for your laptop if you're stuck in the middle of nowhere.
The last benefit I want to tell you about is the ease of use. All the models listed above come with clear instructions. Moreover, they are pretty intuitive, which means you will not have problems trying to find out what that or this button does. This feature makes jump starters versatile as they can be used by anyone.
What are Peak Amps in lithium jump starters?
Basically, Peak Amp is the initial response in terms of electrical current that a jump starter releases when the unit is turned on. Then, the current immediately goes into the vehicle's battery, and the scale increases from zero to the maximum power. The highest point the current reaches is called the Peak Amp. The current doesn't remain at this point for long. Quite fast, it stabilizes and gets more constant. When the current is stabilized, it is called the Cranking Amp. The main thing you should know about it is that the better a jump starter is, the higher Peak Amps rating it has, and the device is more suitable for a diesel engine.
How to tell If the car battery is dead?
Here, you are going to learn bad battery symptoms. The main sign – when you are trying to start the car, there is a low whining sound. It is also worth noting that if jump starting gets the engine to start working, but the car does not start again once you switch it off, the battery is probably the problem.
How to use a lithium ion jump starter?
Let's imagine that your car has run out of battery and you need to charge it now. Perhaps, you are exactly in such a situation when reading it. So, what should you do? First of all, read the manual. The instructions on jump starting might not be very clear, but you will find a lot of useful info about the rules of using a certain jump starter model safety. The manual will also help you to make sure that your car's grounding is negative.
First, turn off your car and remove the key from the ignition. Remember that it is really dangerous to jump start a vehicle when it is on. The jump starter has one negative and one positive clamp. The first one is black while the second is red. Connect the clamps with the battery according to the colors. While you are attaching them, there may be a spark a little bit, but that's ok. Remember that the clamps should not touch each other. You also should not touch them with your hands as it might be unsafe.
Now you can switch on the jump starter. Wait a few minutes and turn on the ignition key. Once your car starts, detach the starter. Unhook the clamps in the reverse order of how you put them on. It is important to let the engine run for some time to get the battery charged. I also have to mention that even the best lithium car jump starter and power pack cannot help the fully drained battery. Do not forget to recharge the jump starter after each usage. Plus, I advise you to check your car battery's health.
How often do you have to charge a lithium car jump starter?
This figure mostly depends on the model you use. It is recommended to recharge the jump starter after each use and at least once every six months. Some jump starter batteries lose their power faster if you leave them in the car during too hot and cold weather. If you are planning to have a long trip, I suggest you charge the battery booster packs to the full. Some drivers think that a jump starter must be fully charged to jump a car, but that is not true. A decent device can still jump starts a vehicle with a 50 to 75 percent charge on it.
Can you overcharge a lithium jumper?
All the good lithium jumper models have built-in protection circuitry. This is a reliable system that is intended to protect the battery inside from overcharging. Moreover, the mentioned technology also protects the device from over-discharging. Another function of the system is temperature control, which helps to avoid the battery getting overheated.
If you forget to unplug the battery after a full charge, it will not damage the device. Nevertheless, it is a good idea to unplug the jump starter with a lithium-ion battery to prolong its battery capacity.
How long should I drive my car after a jump start?
If you jump started your car successfully and it works now, you should let it run for a few minutes so that the battery gets charged more. Then, you have to drive the car for about 30 minutes before stopping again so the battery can continue to charge. If you don't stop, you might need another jump. It is possible that the vehicle does not start the next time you use the starter. This means that the battery is not able to hold a charge and needs to be replaced with a new one.