If you're going on a big tour, it would be wise to take the best motorcycle jump starter with you since nothing is worse than realizing that your battery is dead in the middle of nowhere!
Luckily, getting a drained battery running again is not difficult if you have a good jumper. Besides such devices can double as a flashlight and power bank; plus, they may have outlets and USB ports so that you can charge your gadgets on the go.
But how to choose a battery jumper that will meet all your needs? In this review, I'll explain what features to consider to make the right choice. We'll also take a look at some of the premium-quality motorcycle battery jumpers available on today's market. Interested? Then let's get to it!
Our pick
NOCO GB20
Best Motorcycle Jump Starter
The GB20 is a portable lithium-ion battery jump starter with a capacity of 500 amps. It has a unique safety mechanism that ensures spark-proof connections and reverse polarity protection, making it safe and easy to use for anyone.
How to choose a jump starter for a motorcycle?
I know, it's tough to decide between different motorcycle jump starters. However, knowing the key features of these devices is an important part of making an informed decision before purchasing one. So, here's what you should take into account:
How many Amps are needed to start a motorcycle?
The amperage is a measurement of how quickly a charge enters a power source. Typically, the more amps the battery booster features, the higher the charge, and the faster you can get your motorbike running again.
Choose a motorcycle battery jumper with a higher amperage of 400-500 amps to make sure you'll never get stuck waiting for help from another driver.
What voltage is needed to start a motorcycle?
You should know the voltage rating of the jump starter you want to buy. The voltage should range between 12-volt and 24-volt. This is because most motorcycles are 12-volt, and the 24-volt rating will allow you to charge larger batteries. In addition, you can power devices that have lower voltage requirements with ports on the jump starter unit itself.
Capacity of a jump starter for motorcycle
The higher number of mAh a jump starter has, the higher its capacity. For instance, cheap battery boosters usually have a capacity of around 8000-10000mAh, whereas higher-end models feature up to 20000mAh.
Required inputs and outputs
It's very convenient when a jump starter has additional ports so that you can charge your gadgets on the go. Even if a jumper features a higher voltage rating, it's still safe to power your smaller devices.
Before purchasing, think about how many ports you really need since they take up space and make a jumper less compact.
Best Motorcycle Battery Jump Starters Reviews
The NOCO brand was founded in 1914 in Cleveland, Ohio. They are known worldwide for producing high-quality portable power devices, chargers, jump starters, solar panels, and associated battery products and accessories.
NOCO's GB20 is a lithium jump starter box engineered to start 12V batteries up to 4L gas engines. It can boast a unique safety technology that enables spark-proof hookups and reverse polarity protection, making it safe and straightforward to use for everyone.
This device has enough power to recharge smartphones, tablets, and other USB devices successfully. In addition, it has an LED flashlight with 7 different light modes, including emergency strobe and SOS signal. This allows you some hands-free illumination on long dark roads.
Another great feature of the NOCO jump starter is its portability. Not only does it have a sleek design, but at just over 14 ounces, this device can easily fit in your glove compartment or purse for on-the-go use. The rubberized housing prevents scratches and dents while also preventing corrosion even after accidental spills. The GB20 is the only jumper pack on the market with interchangeable clamps.
NOCO GB20 is the overall best portable motorcycle battery jump starter since it embraces all must-have features – power, safety, versatility, and lightweight. The GB20 will jump-start your bike's dead battery in seconds!
Key specs
Peak Amps (12 V) : 500
Battery Type: Lithium
Gas Engine Rating, l: 4
Diesel Engine Rating, l: Not suitable
Pros
Powerful – delivers 500 amps
Supports up to 20 jump starts on a single charge
Safe and user-friendly
Has water-proof enclosure rated at IP65
Cons
Comes without a wall charger
Vekkia – best budget
The Vekkia jump starter is the answer to your emergency battery troubles. It has a portable, compact design which allows you to keep it even in the pocket.
This device can be used to charge your electronics or jump-start your bike on the go. Its 8600 mAh capacity is enough to fully recharge most smartphones up to three times before it needs more power.
Vekkia includes intelligent circuits overvoltage protection, short circuit protection, overheating protection, etc. Besides, it can detect the wrong usage so you can rest assured knowing that you and your motorbike are protected.
This battery booster is water-resistant with an IP66 rating, making it stand out even against a strong competitor like NOCO GB20. So, you can use this jumper in any type of weather – it'll keep you and your vehicle safe in rain and snow.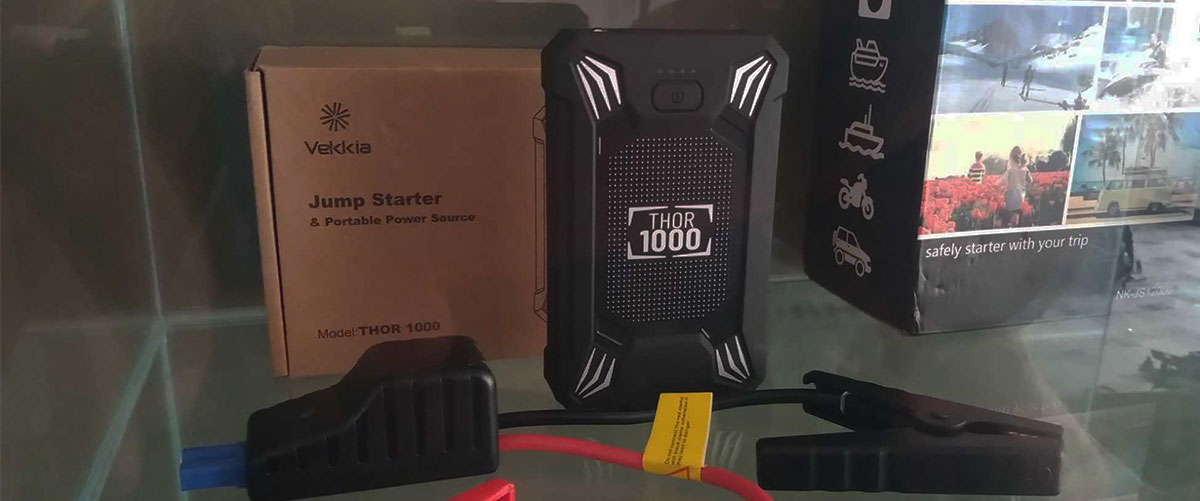 Furthermore, the jump starter doubles as a flashlight with 3 modes of lighting/flash/SOS, making it ready for emergencies at any time of the day or night!
Vekkia delivers unmatched performance at a very affordable price! So, if you need a budget-friendly, compact yet powerful jump starter for a motorcycle, Vekkia may be the right pick for you.
Key specs
Peak Amps (12 V) : 600
Battery Type: Lithium
Gas Engine Rating, l: 7
Diesel Engine Rating, l: 5.5
Pros
Amazingly compact – can fit into your pocket
Waterproof
Robust cables and smart clamps
Intelligent safety system
Cons
Doesn't include a carry bag
Schumacher SJ1331 – with air compressor
Schumacher is the original battery brand that has been manufacturing quality products for over 50 years. They are also North America's largest retailer of replacement power sports batteries for off-road enthusiasts with 200 locations nationwide.
The Schumacher SJ1331 is an essential tool for emergencies. It features 800 peak amps.
This device has been designed with safety as its primary concern – something that users expect from a reliable product like this one. The jump starter's battery is protected from overcharging and overheating. In the event of a problem, the jumper will shut down without harming your motorcycle's electrical system or posing any danger to you.
SJ1331 includes a portable air compressor and can fill sport balls and tires in seconds with 150 PSI power.
For portability, it has a 12V DC outlet and 2A USB ports to charge gadgets like phones or tablets. So, when the jump starter is not in use, hook up your accessories for USB power on the go!
With about six feet of cable, SJ1331 can reach your battery from a good distance away, so you don't have to pull it out of the saddlebags or worry about rear-end collisions. The swivel AC plug makes connecting much easier, and there's even a light that comes on at night to guide the way.
If you are looking for a high-quality motorcycle jump starter with an air compressor, Schumacher SJ1331 will definitely be the right choice for you! Besides, this unit was designed to meet safety standards, which are higher than competitive products, making this one safer and more reliable.
Key specs
Peak Amps (12 V) : 800
Battery Type: Lead Acid
Gas Engine Rating, l: 6
Diesel Engine Rating, l: 3
Pros
Powerful, safe, and reliable
Easy and convenient to use
Integrated bright work light
Meets the industry standards
DBPOWER DJS50
Forgot to hook your jumper cables up properly, and the engine won't start? Giving a jump-start to a battery can be difficult and nerve-racking, but not when you use DBPOWER DJS50!
This is a highly portable jump starter for a motorcycle that you can take anywhere with you. It's capable of jump-starting 5.5L diesel or 7.2L gas engines up to twenty times on a single charge with its powerful 400A peak current output. Furthermore, this model has an easy-to-use button for power on/off or jump-starting the battery – no need for any tools but this product itself!
DJS50 is equipped with USB ports and 8-in-1 laptop adapters so that you can charge your gadgets while working on your bike. Besides, you can easily switch the output voltage between 12V, 16V, and 19V.
Next, the jump starter offers a powerful LED light that can be used as a high-intensity light, strobe light, or SOS light to notify traffic accidents or call for emergency services.
The LCD screen is designed with a compass on the surface to find your way home if you get lost in the wild. Besides, you don't need to worry about battery life because the smart charger will detect battery status and offer proper charging mode.
Finally, this gorgeous model comes in a high-quality case with a wrist strap so that you can conveniently carry it around.
DBPOWER DJS50 is lightweight, compact, easy to use, and powerful. It's perfect for any rider who wants peace of mind when heading out into the wild!
Key specs
Peak Amps (12 V) : 800
Battery Type: Lithium
Gas Engine Rating, l: 7.2
Diesel Engine Rating, l: 5.5
Pros
Compact – perfect for your glovebox
Features heavy-duty clamps and cables
Safe – provides current protection
Has its own little case
Can quickly charge all your gadgets
Cons
Cold temperature may impact the jump starter's performance.
TOPVISION G26
TOPVISION G26 is a potent lithium battery booster. With 2200A of peak current, it can instantly start 12V vehicles with a petrol or diesel engine size of up to 8L. In addition, this small motorcycle jump box can perform up to 50 jump starts on a single charge.
G26 boasts an innovative battery assembly design, setting it apart from even such strong rivals as NOCO or Vekkia. It uses upgraded QDSP technology, which provides 3-5 times more current to prevent damage during start-ups.
However, the power of the unit is not only limited to its ability to restart vehicles quickly. It can also charge your devices using Type-C output that offers the quickest possible charging rate for Nintendo Switch, mobile phones, tablets with Type-C ports. 12V/22A DC output with included cigarette adapter can conveniently charge your car refrigerator, inflator, and vacuum.
Next, high-quality gold clamps provide ultimate safety – they protect against a variety of electrical dangers. In addition, a built-in protection circuit ensures over-current, short circuit, overload, and over-voltage protection.
Finally, an ultra-bright LED flashlight with SOS Lighting Signal can help you during your travel or in case of emergency.
TOPVISION G26 is a perfect solution for those who are always on the go. This powerful lithium battery booster jump starts 12V vehicles in seconds, enables up to 50 jump starts on a single charge, quickly charges your gadgets, and doubles as ultra-bright light. What not to love?
Key specs
Peak Amps (12 V) : 800
Battery Type: Lithium
Gas Engine Rating, l: 7
Diesel Engine Rating, l: 6.5
Pros
Upgraded design
Powerful, safe, and versatile
Ultra-bright LED light
Runs on 3.0 USB technology
FAQs
What are the benefits of using a motorcycle starter?
Many people don't realize that motorcycle engines are much smaller than car engines, which means they can become overheated very easily. This is where motorcycle jump starters come in. A battery will typically stay cool in a car because there's space for it to dissipate the heat (air). However, a motorcycle's battery doesn't have enough room to disperse the heat, so when it starts to get too hot, it might shut off, making the bike stall out. Motorcycle jump starters work by having an alternator jack that attaches directly to your bike and a power inverter inside the starter box that converts DC power from the battery into AC power suitable for a bike's electrical system.
Need more reasons to buy a motorcycle starter? Here they are:
It's versatile and can work well for a car, truck, ATV, UTV, snowmobile, lawnmower, and more.
It's user-friendly – you won't need help when using it.
It'll provide peace of mind – you'll never worry about getting stranded in the middle of nowhere again.
Can I use a car jump starter on a motorcycle?
Yes, you can jump-start a motorcycle with a car jump starter. However, it's not a good idea, especially if it has higher voltage – you can end up damaging the bike's battery or electrical system. However, if your battery booster is designed to work with both 12V and 24V systems, it's totally safe to use it. Just don't forget to switch the voltage!
Can I use a car battery to charge my motorcycle battery?
Yes. You can charge your motorcycle battery with a car battery if you have the correct cable. If you don't, the car battery will send too much power to your motorcycle and may damage it. Anyway, avoid doing it for more than a couple of minutes.
And, undoubtedly, the best way would be to charge your motorcycle battery with a motorcycle-specific jump starter.
Can I jump-start my bike from another motorcycle?
Yes, you can. Jumping a motorcycle battery from another battery is pretty simple. Here's what you should do:
Connect one end of the positive (red) jumper cable clamp to the power pack and the other end to your motorcycle's positive (usually red) terminal.
Connect one side of the negative (black) jumper cable clamp to an unpainted metal surface on your bike, and then connect the other side of this jumper cable clamp onto something else made out of metal that is unpainted.
Finally, connect the other end of this jumper cable clamp to your friend's motorcycle battery in the same way you connected it to yours. Do not let either clamp touch each other or anything else once they are attached because a spark will occur and damage both vehicles' batteries if this happens.