Most cars and trucks rely on 12V electrical systems. However, larger trucks, diesel vehicles, buses, military vehicles, boats, and construction equipment will require a 24V battery to obtain enough power. If your car with a 24-volt battery needs a jump start, it would be challenging to do it without the best 24V jump starter.
The peculiar feature of these heavy-duty vehicles is that they either have one 24V battery or have construction that connects two 12V batteries in series. In view of that, heavy-duty jump starters have both 12V and 24V capacities.
It might be challenging to find the optimal 24V jump starter right away, so I am here to shed light on the peculiarities of these devices. I will answer the most common questions and review the descent jump starter options available on the market.
Our pick
Jump-N-Carry JNC1224
Best 24 Volt Jump Starter
Need powerful, multi-volt charging in a portable unit? Look no further than the JNC1224.
Best 24 Volt Jump Starter Reviews
In the quest for a powerful and portable 24V jump starter, you should carefully study the characteristics of this Jump-N-Carry JNC1224.
Combining the robust yet compact design and multi-volt capabilities, this unit will become your lifesaver if you own heavy-duty vehicles. It hits 3400 peak amps of starting power in 12V mode and 1700 peak amps of starting power in 24V mode, ensuring you will be able to start the battery in an emergency. Featuring 850 cranking amps (12V) and 425 cranking amps (24V), you can be sure that you'll be able to jump-start your car even in extreme climates.
Unlike Schumacher DSR115 with a 2.1A USB port, this device doesn't have this feature. However, there are two 46″ AWG welding cables to deliver power to the unit efficiently. It also comes with dual Clore PROFORMER batteries that are designed for starting high-performance vehicles. By the way, you can replace the batteries if they get out of order.
I didn't have any trouble with starting the 24V diesel engine. It's easy to switch between two voltage settings using quick connections. It also has an in-built charger, but mind that you've got to monitor the charging time. There are no lights or signals that would tell you that the charging is complete.
The Jump-N-Carry JNC1224 is one of the best 24V jump starters as it delivers flawless performance combined with portability. It starts 24V engines quickly and features easy-to-use voltage switches, so you can use it for 12V cars as well.
Key specs
Peak Amps (12 V) : 3400
Peak Amps (24 V) : 1700
Cranking Amps : 850(12V)/425(24V)
Battery type : Lead Acid
Pros
3400 peak amps in 12V and 1700 peak amps in 24V modes
850 cranking amps for 12V and 425 cranking amps for 24V modes
Two 46″ gauge cables
Two high-performance Clore PROFORMER batteries.
Cons
No lights to show that the charging is over.
Schumacher DSR115 – most powerful
Get peace of mind when you are on the road in your 24V vehicle with Schumacher DSR115. This high-output device will help you jump-start your engine in a worry-free way, even in extreme climates.
Unlike Jump-N-Carry JNC1224 with the 3400 peak amps in the 12V mode, this device ensures 4400 peak amps to start your engine effortlessly. With 750(12V) / 475(24V) cranking amps and 525(12V)/350(24V) cold cranking amps, you will get long-lasting power even on a cold day. It also comes with a 2.1A USB port so you can charge your phone if it's dead.
Switching between 12V and 24V is a breeze. Turn an easy-to-use dial button to the left for a 12V mode and to the right to switch to a 24V mode. The digital display indicates the battery level, so you always know when to charge the battery. You will also check the voltage, vehicle's battery level, and alternator performance to understand the situation better.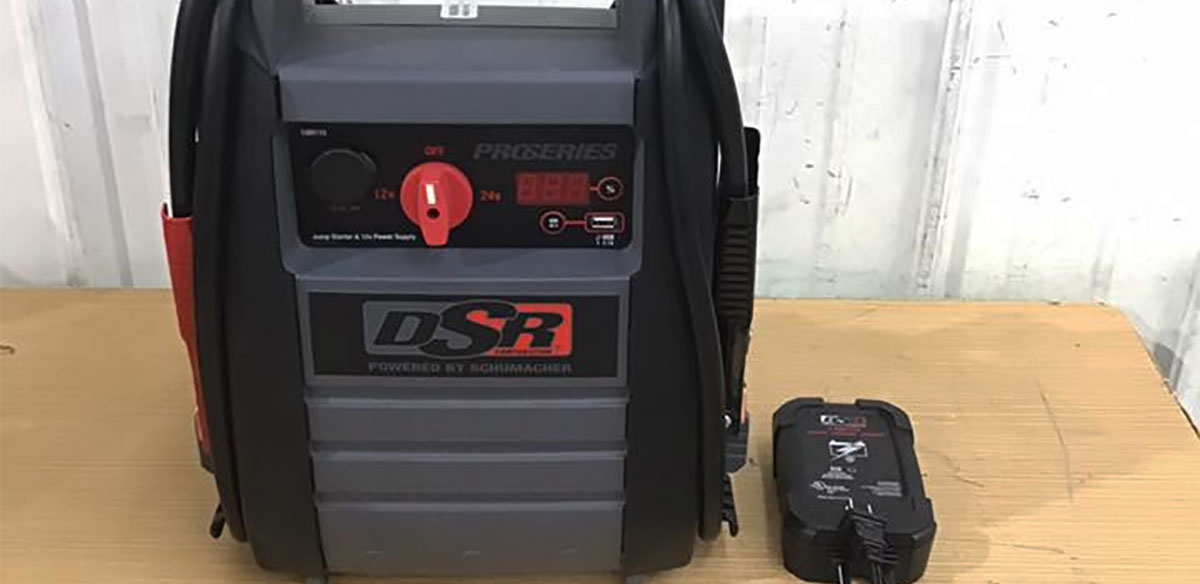 A reverse connection warning alerts you that you've connected the clamps in the wrong way. I also find it great that there is a rapid charging feature that might be helpful in emergencies. But it comes with an external charger, so get ready to cart around one more appliance.
The Schumacher DSR115 12V/24V jump starter can power a diesel engine, truck, bus, boat, or anything with a 24V electric system. You'll never go wrong with this unit, and will be backed by a reliable and high-performance device that would start your vehicle even in extreme conditions.
Key specs
Peak Amps (12 V) : 4400
Cranking Amps : 750(12V)/475(24V)
Cold Cranking Amps (CCA) : 525(12V)/350(24V)
Battery type : Lead Acid
Pros
Simple switching between 12V and 24V modes
4400 peak amps in a 12V mode
2.1A USB port for charging the phone, tablet, laptop
525(12V) and 350(24V) cold cranking amps for an effortless jump start.
Cons
An external charger is inconvenient.
Truck PAC ES1224
The Truck PAC ES1224 will be a decent response to the challenges you might face when hitting the road on your 12V or 24V vehicle due to the rugged construction and high-performance components.
Its peak amps capacity is similar to Jump-N-Carry JNC1224, with a slight difference in figures. This device provides 3000 (12V) and 1500 (24V) peak amps, while the cranking amps reach 750(12V) / 370(24V). In this way, you can be confident that you will start your car or any other engine even in the most severe service situation.
This model features two Dual ES series lead-acid batteries meant specially for jump-starting the vehicle. Due to the automatic recharge feature, 60-inch cables, and industrial-grade hot jaw clamps, you can always be certain the power is safely transferred to the engine. Besides, the AWS warning system will alert you that the jump starter is in an unsafe condition.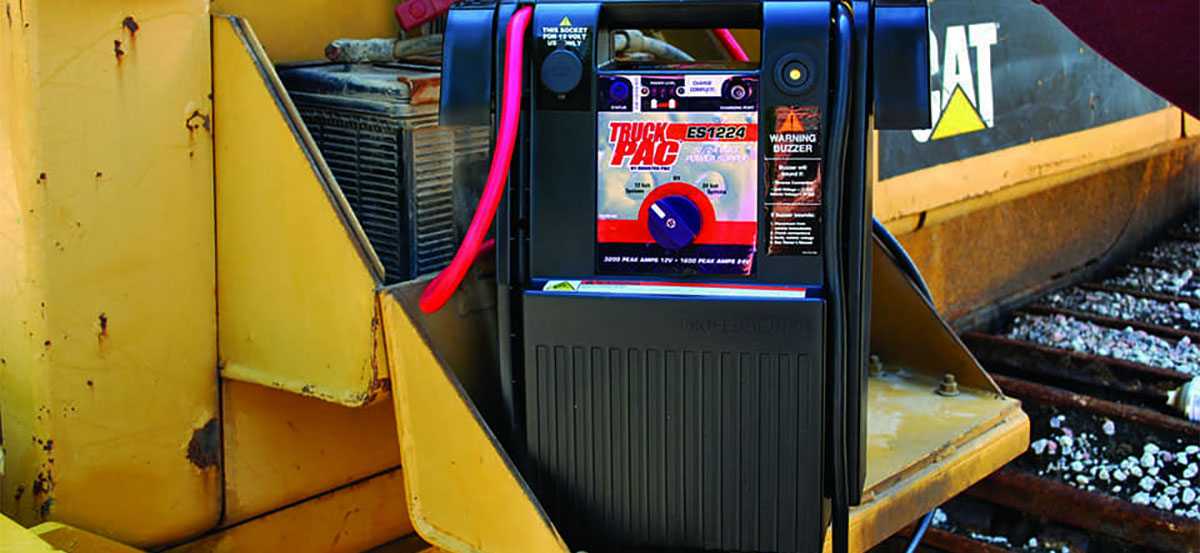 One of the great advantages of this jump starter is that you can replace batteries. Thus, if one gets out of order, you can replace it without buying new equipment. But get ready to recharge the battery of this device frequently as it gets discharged on its own. If it rolls around in the trunk of your vehicle for a couple of weeks and you feel the need to use the jump starter, you will find that its battery is dead.
This Truck PAC 24 volt battery jump starter is a great solution if you are looking for the basic device to jump-start your 12V or 24V vehicle as it has optimal peak amps values and quality components.
Key specs
Peak Amps (12 V) : 3000
Peak Amps (24 V) : 1500
Cranking Amps : 750(12V)/370(24V)
Battery type : Lead Acid
Pros
Optimal peak amps values – 3000 (12V) and 1500 (24V)
Automatic recharge feature for maintaining battery level
60-inch cables for ease of use.
Cons
The battery requires frequent recharging.
Buying guide
Can a car battery be too dead to jump start?
There is no reason to think that you can't start a too-dead battery in most cases. Even when the battery is completely discharged and is not working, you can get help from a powerful jump starter and bring it back to life. But mind that the instant battery failure is a wake-up call for a serious problem, which can be mitigated if you take certain measures. Besides, it might result from the negligence of basic rules or improper maintenance, so check out what can lead to the dead battery. Finally, you should also mind that batteries have a limited lifespan. So, perhaps, the battery is not discharged, it's just time to replace it.
Can I charge a battery with a jump starter?
Briefly, no. A jump starter works in a different way. It doesn't charge the battery. It gives an instant boost of power which is enough to get the vehicle battery started. After this, the car's alternator becomes activated and starts charging the battery. Mind that you've got to wait for at least 5-10 minutes after you start the car to let the battery gain some power.
Is the more CCA the better?
CCA stands for cold cranking amps, and it defines how much power the jumper pack can deliver under low temperatures (below 0℉). More CCA means more power, which is especially beneficial for high-performance vehicles with 24V systems. It means that you will be able to start the car in conditions of low temperatures when the battery is completely dead. But there are cases when you might not need the jump starter with the highest CCA, so it's better to learn whether this feature is worth its money for you.