Miter saws are a game changer in the carpentry world. If you intend to make angled cuts or other types of accurate cuts, a miter saw is a huge advantage. If you want to maximize the usability of a miter saw, it is important to have a good sliding miter saw stand.
Benefits of a miter saw stand
A miter saw stand adds stability to your saw and helps you make more precise cuts. It can also help speed up your cuts, especially if you are using long boards.
A portable miter saw stand can also make it easier to store and transport your miter saw.
Miter saw stand review
The best miter saw stand is the Harbor Freight Miter Saw Stand. It securely holds the saw in place, and is also extremely easy to transport.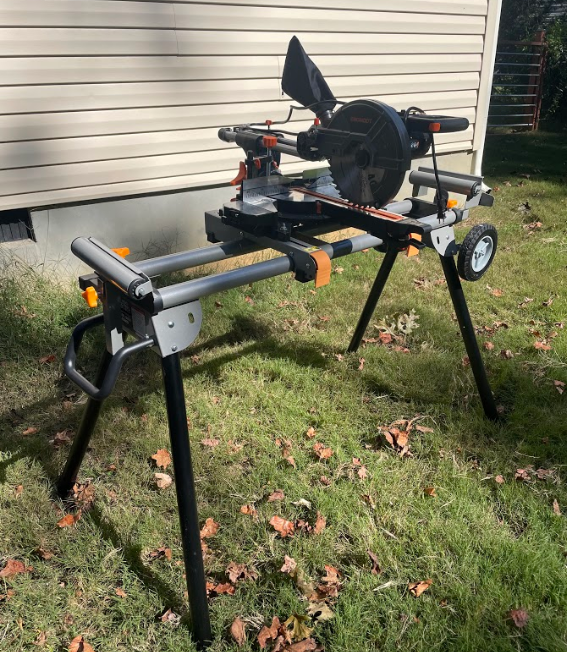 My favorite features of this miter saw stand is its secure locking system, adjustability, and it's easy transportation and storage.
Below are some key specs of this stand:
Max length of boards: 16 feet
Weight capacity: 400lbs
I used this stand for my Endingot miter saw. If you are in the market for a saw, check out my article on the best sliding compound miter saw.
Secure locking system
One of the most important aspects of a sliding miter saw stand is its foundation and stability. You need a sliding miter saw stand that will stay still and not move when you are making precision cuts. Additionally, miter saws can weigh over 30 pounds, so it is important to have a stand that can handle this weight. This is important for your cuts and for your safety.
Luckily, the has an advanced locking system that can easily manage any sliding miter saw. Both the legs and arms are held securely by button locks that don't move at all once they are put in place.
This secure locking system not only allows the stand to stay straight on flat surfaces, but also on uneven surfaces. For example, I put my miter saw stand on uneven grass, and it still firmly held the miter saw. This makes it easier to make precise cuts, such as hexagons.
This is also made possible by the firm rubber grips attached to the legs. This helps prevent the stand from vibrating while you use the saw, and it helps the stand stay put on non-flat surfaces.
Lastly, the legs of the stand are made from strong, durable steel that will last for a long time. If you are having trouble setting it up, check out my article on how to use a miter saw stand.
Adjustability
Another important component of a miter saw stand is adjustability. It features a roller at the end which allows you to cut very long boards (up to 16 feet). It is also easy to put the miter saw on the stand.
Simply lock the miter saw into the stand by attaching it with a bolt, as pictured below. This bracket is universal so it works for just about all miter saws.
The lengths of the legs can also be adjusted, which will help you cut boards on uneven ground.
Transportation and storage
You will want a miter saw stand that is easy to move around. Not only is this miter saw stand very easy to move, but it can be transported with the miter saw attached to it. This makes it a lot easier to move your tools around, especially if you are working by yourself.
The stand has two strong wheels attached on the end that can traverse a wide range of surfaces, including grass.
You can easily breakdown the stand by pushing the lock buttons located at the joint between the legs and arm of the stand.
Next, simply fold the legs down so that the entire stand is parallel with the ground. You can do this with the saw attached, but the first couple of times I recommend you remove the saw before doing this. The stand is strong enough to easily hold the miter saw at a vertical position.
Once the stand is parallel with the ground, you can easily lift it up by the handle. The handle is made from strong metal and is easy to grip. Once you lift it up by the hand, you can simply roll the stand like a dolly. Make sure you firmly secure the cord from the saw so that you don't trip over it while you transport the saw and stand.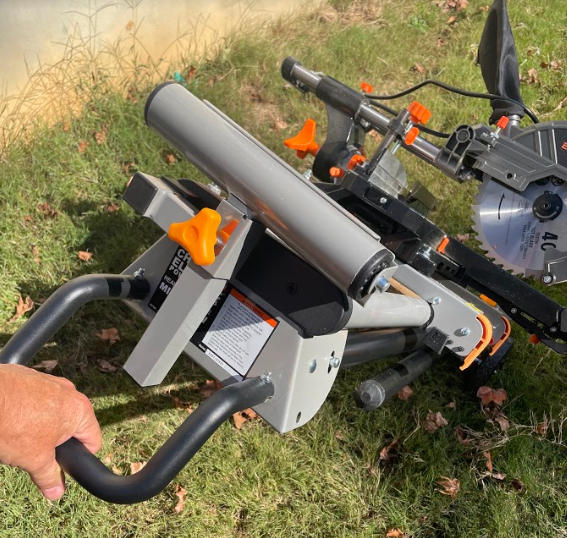 Since you can fold the saw together, it is very easy to store. You can either store the stand standing up, or you can lay it on the ground.
Cheap miter saw stand
The Harbor Freight miter saw stand is also very affordable. While some stands can cost over $400, you can purchase this one for only $120.
While there are some stands that are a little cheaper, they don't offer the same stability and durability.